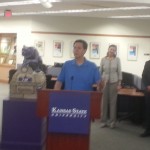 Governor Sam Brownback was in Manhattan today on the campus of Kansas State University to announce his three new appointees to the Kansas Board of Regents. Shane Bangerter, Ann Brandau-Murguia, and Helen Van Ettan will replace three outgoing board members, and each will serve a four year term.
Brownback expressed confidence in his appointees saying "Shane, Ann, and Helen bring a great amount of experience and talent to the board and I am excited they've agreed to serve our great state".
Bangerter has practiced law in the state of Kansas for nearly twenty three years. Among the many organizations he is involved with, Bangerter serves as vice chair of the Dodge City community college Board of Trustees and the Young Life Start Up Board in Dodge City. He earned his bachelor of science from Oral Roberts University and his juris doctor from the University of Kansas School of Law.
Brandau-Murguia is the Executive Director of the Argentine Neighborhood Development Association in Kansas City and also serves as third district Representative on the Kansas City Unified Government Board of Commissioners. She earned her Bachelors of arts in Human Services from Ottawa University and her Masters of business administration  from Baker University.
Van Etten is an audiologist with the Topeka public schools district. She is on the Board of Governors for the Eisenhower Excellence in Public Service Series. She earned her Bachelor of Education in Health Education/Special Education from National Taiwan Normal University; her Masters of Audiology at Wayne State University and her Doctorate of Audiology from the University of Florida.
Regents Vice Chair Fred Logan says he is excited to work with the three new members saying "I know I speak for all of the Regents when I say that we are excited to work with Shane, Ann, and Helen".
The nine member Kansas Board of Regents is the governing board of the six state universities and the statewide coordinating board for the state's 32 public higher education institutions. The board also administers the state's student financial aid, adult education, GED, career and technical education programs, and the state university retirement plans.