On a night with a title fight in Las Vegas between Floyd Mayweather and Canelo Alvarez, K-State volleyball literally won a championship belt in Berkeley, CA on Saturday afternoon as they bested #23 Cal on their home floor in five sets 16-25, 25-22, 25-22, 19-25, and 15-9 in the Hilton Garden Inn Invitational.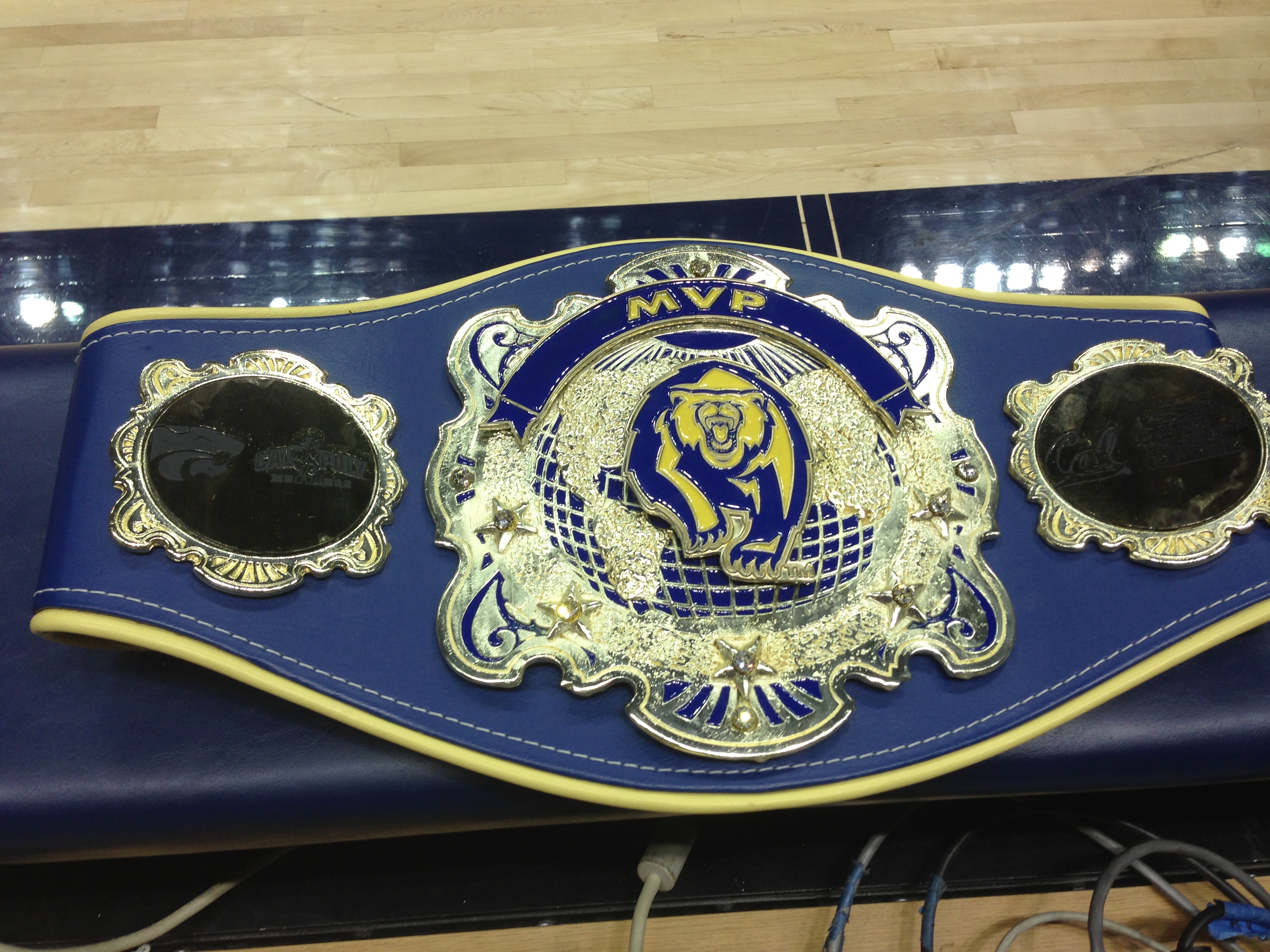 Tournament MVP Kaitlynn Pelger was awarded a belt worthy of a prize fight after she posted 16 kills, 15 digs, and six blocks against the Golden Bears. Dakota Kaufman with 12 kills and Taylor Johnson with 11 joined her in double figures. Tristan McCarty also made the all-tourney team with 19 digs and a career-high tying four aces against the Golden Bears. Katie Brand also had a double-double with 50 assists and 13 digs, while Courtney Traxson topped the Cats with eight blocks.
Cal controlled the first set from the outset, but K-State would respond after falling behind 14-9 in the second frame. The Cats went on a 6-1 run to tie the score at 15 keyed by a pair of McCarty aces. The Bears would again surge ahead 19-16 before K-State scored a half dozen points in a row, with Traxson contributing two kills and a block. K-State would hang on to win the set, getting the last two points on blocks by Traxson and Johnson.
Once again, Cal would jump in front of the Cats by five points in the third set, but surrendered the lead to K-State thanks to a 15-7 run. After taking a 22-19 lead, the Cats beat the Bears by three on a Pelger kill to finish the set. Cal struck back in the fourth set, taking a 9-3 lead early en route to the 25-19 win.
K-State (9-1) jumped out to a 5-2 lead in the fifth set, and steadily chipped away at the Golden Bears as they built a 13-6 edge. The Cats would get their final two points from Lilla Porubek to end the match, who had four of the nine kills scored in the last set.
Cal (7-1) was led by 18 kills from Adrienne Gehan.
K-State volleyball will go back on the road next weekend to Arkansas' tournament in Fayetteville. The Cats will play the host Razorbacks on Friday night at 7:00pm, with coverage online at kstatesports.com at 6:30, and a tape delayed broadcast after Manhttan High football on NewsRadio 1350 KMAN. K-State will face St. Louis and South Alabmaa on Saturday, and conclude the trip on Sunday at Missouri State.