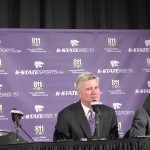 Shane Southwell scored a career-high 21 points to lead three Wildcats in double figures and Kansas State overcame a sluggish start with an incredible scoring run en route to a 72-55 victory over George Washington in the final non-conference tune-up before a sellout crowd of 12,532 Tuesday afternoon at Bramlage Coliseum.
The Colonials who were 11-1 entering the contest knocked down seven of their first nine shots for an incredible 78 percent as they jumped out to a 15-6 lead with 15:24 left in the first half. However, George Washington's score wouldn't change again until seven minutes 24 seconds later when Kethan Savage would score on a layup. By that time K-State led 26-17 and Savage's bucket would end a 20-0 run keyed by Southwell who had scored 12 of the Wildcats points. Leading 43-30 at halftime, K-State picked right up where they left off to begin the second half and stretched their advantage to 54-35 with 15:19 remaining in the contest. K-State's defense had yet another outstanding performance holding the Colonials who had come into the contest averaging more than 77 points a game to their lowest total of the season.
Marcus Foster, K-State's most consistent player in the early stages of the season added 15 points and Thomas Gipson asserted himself in the paint all afternoon and had 12 points. Savage led George Washington with 14 points while Maurice Creek added 13. The game also marked the Bramlage Coliseum debut of Jevon Thomas who had not been able to play during the Fall Semester. While Thomas did not score, his play on both sides of the ball had a huge impact especially during K-State's monster first half run. Thomas registered six assists and through two games he has 10 steals and no turnovers.
Kansas State (10-3) begins defense of its Big 12 Championship from a season ago when they welcome sixth-ranked Oklahoma State to Bramlage on Saturday for the league opener. The Cowboys suffered a huge blow on Tuesday when they learned star Center Michael Cobbins who suffered an Achilles tendon injury in Monday's win over Robert Morris will have season-ending surgery on Thursday. Tip-off on Saturday is set for 3 p.m.

Stay connected to all things KSU on the go just text EMAW to 88474

For full video wrap-ups, including analysis, highlights, coaches & player interviews of K-State Football & Basketball check out PowerCatGameday.com