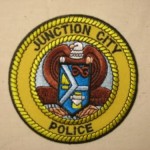 Two Junction City residents face charges for child abuse after a child died from major injuries.
During the early morning hours of Sunday, September 15th, The Junction City Police Department was notified of an eight month old child that was brought into the emergency room at Geary Community Hospital. It was later learned that the child was tranported by helicopter to Children's Mercy Hospital in Kansas City, MO with major injuries.
Christopher Lyman (29), Tammerisk Lyman (26) were both arrested on charges of child abuse and aggravated battery in connection with this case.
Mr. Lyman is currently confined in Geary County Jail, and being held on a one million dollar bond. Mrs. Lyman is currently free on a $10,000 bond.
Police learned Wednesday that the victim in this case died at Children's Mercy Hospital.
This case is still under investigation.