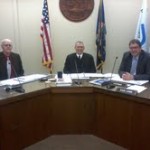 Rules and regulations regarding sanitary codes are very specific, but they can be changed if the commission so chooses. During Monday's Riley County Commission meeting, the commission received a sanitary code appeal for a lagoon permit.
Joe and Nancy Moore own a 2.7 acre piece of land in the county. Their house burned down last year and they wish to rebuild. In order to do so, the couple needs a lagoon on the property.
The requirement for the sanitary code is that the piece of land must be at least three acres in order to be eligible for a lagoon. Assistant County Counselor, Craig Cox presented an appeal from this rule, so that the couple could begin construction on their home.
The Moores were in attendance, as well as some of their neighbors. Nancy stated, the couple has lived their for many years and if the appeal did not go through, they would more than likely have to vacate the land. The neighbors present said they had no problem with a lagoon on the Moore's property.
The commission unanimously approved the appeal.
————-
The meeting's press conference featured three different items, beginning with Riley County Police Captain, Kurt Moldrup who shared some year numbers so far.
Part one crimes seem to be down, but Moldrup said the recent spike in vehicle burglaries may have changed that.
Moldrup also took the time to invite the commission, as well as the public, to the law enforcement week ceremony at the Alvan D. Johnson Law Enforcement Center this Friday at 11 a.m.
County Clerk, Rich Vargo brought up the June 11th election. Most people in the area may be unaware of this election, but it is to decide on a bond issue in USD 378.
The final item during the press conference was presented by a new face. Newly elected Chair of the Riley County Council on Aging, John Allard gave his first update.
————-
County Clerk, Rich Vargo and Budget and Finance Officer, Johnette Shepek provided updates on the year to date budget and expenditure reports, as well as the 2013 Health Department budget to actual report.