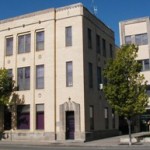 "We are the envy of the state with the new announcements".  This quote was said by Manhattan Area Chamber of Commerce President, Lyle Butler during Thursday's Riley County Commission meeting.
This month has provided a number of announcements including- President Barack Obama's budgeted $714 million for construction on NBAF, and the Kansas Department of Agriculture's decision to re-locate to Manhattan.
Besides Manhattan, Pottawatomie County recently received some good news, as the old Quaker Oats building will now house Continental Mills.  This will create 65 good paying jobs, with benefits.
The only other individual on the meeting's agenda was Treasurer, Eileen King, who presented the monthly financial reports.
At this point in the year, the county is 1.5% over what is budgeted and 13% above when you consider re-reimbursements and transfers.  "After a transfer is made to the CIP, this is expected to look much better", said King.