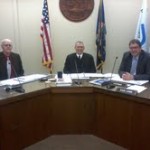 Riley County Counselor, Clancy Holeman shared updates on House Bill 2052, better known as the concealed carry bill, during Monday's county commission meeting.  The bill has been discussed during previous meetings, but Holeman had updates to share.
Bullet points are located within the bill, one of which Holeman finds misleading.  The bullet point addresses liability protections for entities, which Holeman thought the bill said something a little different.
Commission Chair, Dave Lewis mentioned he is concerned with sporting complexes, as many fans can get heated with referees.  Commissioner, Ron Wells said he doesn't believe it will be "that big of deal" in those situations, as he knows many people who have concealed carry licenses and yet don't carry guns.
Holeman also mentioned a new solid waste bill, which he intends to have Public Works Director, Leon Hobson take a look at.  Holeman believes the public works department will have a better idea whether they will be affected by the bill.
—————–
During the meeting's press conference, Assistant Dean of Student of Student Services at Kansas State University, Larry Satzler shared information regarding the USD 378 bond issue.  Satzler mentioned he is a member of the Riley County Kids Committee, and is a parent of three kids in the Riley County school system.
The goals of the bond are:
improve educational programs and support
address the middle school overcrowding issue
improve and upgrade security and safety
enhance community involvement and use
increase facility energy and efficiency
This Wednesday, the first informational meeting regarding this bond issue will be held.  The meeting will start with tours at the Riley County high school at 6 p.m., and will then move to Leonardville Community Center.  There will be two additional meetings on the following Wednesdays.
—————–
Walk Kansas has come to an end for this year, and County Extension Agent for Health, Nutrition and Food Safety, Ginny Barnard gave the end results.
108 teams participated, with he number one team being- "The Awesome Six".  KMAN's very own "Radioactive" team finished fourth.
Over 620 participants were signed up, and 87,450 miles were walked total.  In addition, 89,000 fruits and vegetables were recorded.
—————–
Other discussions during the meeting included a project update from Public Works Director, Leon Hobson and a discussion of District Court copiers with Court Administrator, Lanna Nichols.