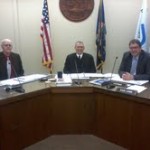 "I prefer not to have it (an advisory council), but I think it's a good compromise". This statement was made by Riley County Commission Chair, Dave Lewis during Thursday's commission meeting.
County Counselor, Clancy Holeman provided a work session regarding the revised draft of the public building commission bylaws.
Holeman stated the idea would be to use an existing body (the Riley County planning board), as well as two additional members that would be appointed by the commission. This would make the group a seven member advisory council.
The commission came to a consensus to move forward with this revised set of draft bylaws.
At this time, the public building commission has still not yet been officially approved.
——————–
Public Works Director, Leon Hobson shared two items with the commission involving road projects.
Green Randolph Road will be undergoing two projects in the near future, one of them involving a culvert. According to Hobson, around 250-300 cars travel the road everyday-including tractors and combines. For this reason, it could be difficult for travelers to find alternate routes.
Hobson requested a shoo-fly be added to the project for easier travel. Commissioners will first move forward with a design study to figure out how much this would cost, before approving anything.
Hobson's second item involved the purchase of a plate compactor attachment for the department's excavator.
Three pictures were shown of various road shoulders that need work-Stagg Hill Road, West 59th and McDowell Creek Road. In order to complete this work, Hobson said they would need the attachment.
The commission unanimously approved the request, as it will not put Hobson over the 90% mark the commission has asked all department heads to stay under.