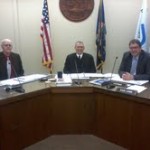 Cico Park could get a new look in the coming year.  According to Riley County Parks Manager, Greg Lund, the playground equipment is out of date and unsafe for children.  Riley County Commissioners seemed to agree as they viewed pictures and plans during Thursday's commission meeting.
Lund provided pictures of concerning structures- including a wood climbing structure and an old slide.  He also provided options of equipment that could be installed in the existing structure locations.
One option included a large playground building-with slides, climbing walls, and ramps.  Other smaller alternatives would be to purchase separate pieces of equipment, including swings, slides, and climbing walls.
An overview of the entire park projection indicated separate play areas, such as-an adventure play area, a central play area, a nature play area and more.  Some appeared to be more costly than others.  The adventure play area would only be $112,o00, while the central play area would be around $250,000.
Commissioners seemed to agree that the need for new equipment is there.  Commission Chair, Dave Lewis commented, "this is way overdue".
Although the commission wants to see changes in the future, they all agreed it would not be best to include this in the 2013 budget, as encumbrances are due and it'd be "cutting it close".
Commissioner, Robert Boyd stated, "I'm supportive of change, just too late for 2013.  We will have to wait till next year".
Lund presented another item involving the county fairgrounds.
The Kaw Valley Rodeo Association has requested the addition of a 40 x 40 metal building for storage, ticket space, and check in space.
According to Lund, it appears the association would pay for the building to be built.  The commission did however raise concerns about who would be providing insurance for the building.
Commissioners also discussed that the fairground location could change in the coming years, which could impact the decision.
County Extension Director, Jennifer Wilson was in the audience during the discussion and mentioned the association is still in the process of discussing this matter, but they are aware the location could change-which is their main red flag on the project.