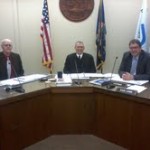 Kansas Department of Transportation (KDOT) consult meetings are coming up soon, and Riley County Commissioners need to decide which projects will be brought before KDOT for possible funding.
During Monday's commission meeting, Public Works Director, Leon Hobson facilitated a discussion on potential KDOT projects.
Commissioners discussed Marlatt Road in great detail, as they believe it is high on the list of projects needing to get done.  "Marlatt needs to go further north.  We need to be thinking 30-50 years ahead", commented Commissioner, Ron Wells.
The commission decided to support a feasibility study for alternate routes, to relieve congestion on Highway 24.
————-
Currently, the election staff is comprised of two 1000 annual hour positions and six 600 annual hour positions.  An item was presented to commissioners involving restructuring the staff.
Human Resource Manager, Cindy Volanti made a request that the commission take two 600 hour positions and two 1000 hour positions, to create two new as-needed clerical assistant positions.
She mentioned this would provide a savings of $2,800, and would better assist with the ongoing technology changes in the election process.
The commission approved this item unanimously.
————-
A bid opening was held for a new truck for the Noxious Weed Department.
Three bids were submitted:
Dick Edwards Ford of Manhattan-$34,481
Shawnee Mission Ford, Inc. of Shawnee-$34,938 with an option of pay upgrade
Schram Dodge of Manhattan-$35,708
All of the bids were approved for staff evaluation and recommendation.
————-
The meeting featured a full press conference, with several upcoming events including-K-State football traffic, Purple Power Play in the Park, Master Gardener recruitment, and vehicle tag renewal.