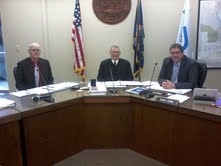 New signs have been posted on the Riley County buildings, in order to comply with the concealed carry law that went into effect Monday.  During the commission's meeting that day, concealed carry was discussed from the employee standpoint.
County Counselor, Clancy Holeman mentioned the commission must make decisions regarding county employee policies.  The point of the discussion was to review what kind of authority department heads have over their department employees regarding concealed carry.  Obviously department employees are not allowed to carry a concealed handgun on county property, but some departments perform duties off grounds.
Community Corrections Director, Shelly Williams was present during the discussion, and voiced her thoughts as many of her employees make dangerous house calls.  County Clerk, Rich Vargo also participated in the discussion, as he has around 200 election workers.  Vargo mentioned concealed carry off of county property could become a liability issue.  He gave the example of how individuals might feel during an election if they go into vote and see a worker with a handgun.  He also mentioned how the situation could arise in Williams's department if they went to visit a client and the person was able to take the handgun from the worker.
After discussing other scenarios, and liability concerns, it was decided that Holeman would return with more information about liability issues before the commission makes any decisions.
————————–
Country Stampede came to a close Sunday night.  Although the rain delayed Thursday night's concert for two hours, the weather was very cooperative, according to Riley County EMS Director, Larry Couchman.
"I've been there all 18 years, and I can't remember an event with consistent great weather like this year", Couchman commented.
The EMS was 30% down in call volume from last year.  Entry level patients were down from 375 last year, to 285 this year.  Only one vehicle accident occurred, involving a vehicle and a pedestrian.  The person was transported for minor injuries.
Couchman was made aware of a new drinking game called "Stump", which sent one person to a trauma center for severe injuries.  The only other serious call was an overdose of an illegal substance.  The individual was transported, as bad side effects did occur.
All of the medical calls were down this year, from last year, except two-soft tissue and orthopedic.
—————————
As some events end, other things are beginning.  County Treasurer, Eileen King utilized her press conference time to inform the public of the sales tax change, effective that Monday.
The legislative action reduces the statewide rate from 6.3% to 6.15%.
Riley County will be moved to 7.15%, and other locations have differing rates.  For more information on sales tax rates, call 785-537-6320.
King mentioned the treasurer's office can now accept insurance information via cell phone.
————————–
County Health Department Director, Brenda Nickel made her first request for approval during the meeting.  Nickel presented the Healthy Families Contract: Outreach, Prevention and Early Intervention Services.  She mentioned many of the services involve prenatal instructions for teen moms, and after birth follow-ups.
The commission approved the contract and letter unanimously.