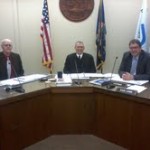 Although Riley County aerial photographs were taken a few months ago, new photography could be in the near future.
During Monday's county commission meeting, IT/GIS Director, Robert Nall presented the 2014 aerial photography agenda item.
Nall shared details about the new photography, and the benefits the new pictures would provide.  He indicated the pictures would be better quality and would provide more angles.
Other department heads, including County Appraiser, Greg McHenry, mentioned the photos would benefit their work as well.
Commissioners did not seem thrilled to be re-doing the project, but they all indicated the need is there-especially since the previous photographs have not yet been delivered.  Commissioner, Robert Boyd even recommended asking the previous company for money back.
The commission approved to move forward with the 2014 aerial photography project.
————————-
Police Department Public Information Officer, Mat Droge provided tips on how to avoid becoming a victim of burglary this holiday season, during the meeting's press conference.
Droge advised people to lock their houses and vehicles, and mentioned disposing of trash properly.  Families often buy televisions this time of year, and placing those cardboard boxes near your trash cans by the street just advertises that those items are in your home.
Commission Chair, Dave Lewis also took the time to mention holiday hours one last time.  The county offices will be closed at noon on Christmas Eve and will be closed all day Christmas.
The offices will be closed on New Year's Day as well.