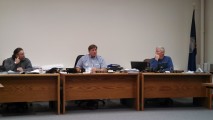 The Excel Road project could be looking at a delay if agreements can't come to pass.
During Monday's Pottawatomie County Commission meeting, John Watt, County Counselor, brought forth a complaint by a developer after review of the Memorandum of Understanding that was drawn up a couple of weeks ago.
Watt explained the developer is wishing the county to pay inspection costs that for about a decade has been the responsibility of the developer.
Stan Hartwich, Commission Chair, stated they need to "stay with what has been done in the past" on this matter.
Gary Yenzer, Commissioner, agreed with the sediment by saying they need to "stick to [their]guns".
Leu Lowrey, Public Works Director, told commissioners the intersection project and the Excel Road projects could be split apart and done at different times as to not lose out of state funds for improvements.
The commission is expected to meet with the developer at their meeting next week on the 17th to discuss the issue further.
Besides that issue, the commission, also, heard from Scott Schwinn, County Sanitarian and Transfer Station Supervisor, and Betty Abitz, Register of Deeds, for their monthly updates.