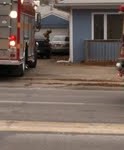 Additional details regarding the woman that crashed her vehicle into a house on Anderson Avenue, after fleeing from police, have been released.
As KMAN previously reported, this incident took place around 2:00 p.m. Friday afternoon. 
According to the Kansas Highway Patrol Log, Amber Dewitt (24) of Rochester, New York was identified as the driver in this incident. She was transported to Mercy Regional Health Center for possible injuries.  Dewitt was driving a 2002 Hyundai Sonata.
Three occupants were also in the vehicle with Dewitt during the crash.  Natalia Hamilton (21), also of Rochester, was inside the vehicle, and was transported to Mercy for possible injuries.  A seven year old and a three year old were also in the Sonata, but were not injured.
Dewitt was charged with aggravated battery of a law enforcement officer, aggravated endangering a child, obstruction of the legal process, fleeing and attempting to elude, reckless driving and failure to stop at an injury accident.  Her bond was set at $35,000.