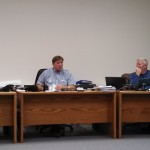 It's been a long time coming, but Excel Road improvements are close to becoming a reality, with County Counselor John Watt making an announcement Monday that the memorandum of understanding for the Excel Road project has been signed by all parties involved. 
Pottawatomie County Commission Chair Stan Hartwich tells KMAN the heavily used road in southwest Pottawatomie County on the east side of Manhattan has needed work for a number of years. Hartwich says improvements have been considered since he's been there, which has been almost 10 years.
The County Counselor is also working on a tax foreclosure sale, which comes up every few years, according to Hartwich.
It's been a rough winter on area roads–but Pottawatomie County's Public Works Director is ready to get to work on fixing those thoroughfares. Leu Lowrey reported to commissioners asphalt is available for patching roads and potholes and his crews will begin that process. Lowrey is also working on an easement for bridge replacement on Flint Rock Road.
Pottawatomie County Firefighters will have some new equipment, thanks to approval by county commissioners Monday for bids on UTV fire-fighting skids. County Fire Supervisor Bruce Brazzle visited Commissioners Monday and reviewed bids with them. The low bidder was John Deere of Wamego,with CTI Tractor. Hartwich says the two pieces of equipment will be set up with spray tanks in the back.