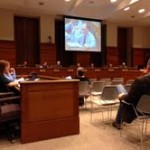 It's almost that time of year again with Fake Patty's Day in Manhattan set for March 8th. Riley County Police Captain Kurt Moldrup told Riley  County Law Board members Tuesday law enforcement crews are prepared.
Moldrup listed other groups assisting RCPD as Hays and Junction City, and Emporia  police departments, and Pottawatomie and Lyon County Sheriff's offices.
 Moldrup added the Aggieville Business Association has also assisted. Street vendors will also be offering food outside establishments and there are plans for more porta potties.
Law Board Member Wynn Butler asked about the expansion of what originally was an Aggieville based event to other districts in the city. Moldrup responded that's part of the plan to deal with problem areas.
Questions were also asked about ABC, or Alcohol, Beverage, Control agents and their plans–with Moldrup saying while he'd been in contact with them, they operate the way they operate.
On another matter, law board members approved a contract for Director Brad Schoen, following an executive session. The pay raise moves Director Schoen's salary up to  $128,448.98 from a previous salary of approximately $122,000. The two year contract approved is for this calendar year of April first through December 31st and next year's January first to Decemeber 31st of 2015.
And it's almost time for budget discussions and the law board set dates of March sixth and 17th to begin consideration of the next budget, even though not all law board members are able to be present for each meeting. Law Board member Wynn Butler suggested the group get to work..
And in the review of items on the consent agenda, it was noted by Board member Rich Jankovich there's one positive report, and that's the decline in prison inmate population numbers. Director Schoen reflected that's probably due to declining crime rates.