Update 3:
At the 7:00 pm briefing, not much had changed for the Riley County Police department as only eight total arrests were made for the day.
Though only about halfway done at this point, Droge mentions things are going well.
"We're on a good start," said Droge. "We're on track to maybe a record breaking year in the opposite direction then we were going. I think that's a testament to the officers out there doing proactive work. The people who are participating are making better decisions possibly. There were better educational opportunities about the laws this year. I know we tweeted about it and the Manhattan Fire Department tweeted about it."
More information is expected to be released Monday after all information has been collected.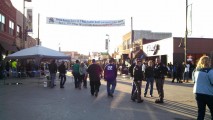 Update 2:
Crowds continue to grow and neighborhood surrounding Aggieville are spotted green as people make their way to the ville , while others partake in house parties.
Droge met with the media again at 5:00 pm and reported they had one physical arrest made and that was at the KFC on 3rd street for disorderly conduct. Last year they had a total of 70 arrests throughout the event.
Droge mentions there were 359 calls for service in 2013 and up until 5 pm this year they received 146 calls.
To help with the incidents and patrol, there were 162 emergency personnel out in force at the event.
The next briefing will be held at 7:00 pm.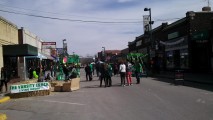 Update 1:
A sea of green is expected to fill Aggieville throughout the day, but at about noon the crowd was still quiet.  More people are expected to make their way as the day progresses.
Meeting with the media for the first briefing of the day at 1 pm, Officer Mat Droge, Public Information Officer with the Riley County Police Department, explained there were no major incidents to report.
During the overnight hours preceding Fake Patty's Day, however, Droge said they wrote 10 alcohol violations.
At the time of the briefing, Droge mentioned the main calls were for noise complaints and parking problems.
With a number of agencies including Junction City Police, Emporia police, Lyon county sheriff's office, hays police department, Pottawatomie county sheriff's office, Kansas highway patrol, EMS, fire, and others a total of 72 people were on duty to cover the day.
The next briefing will be at 5:00 pm.