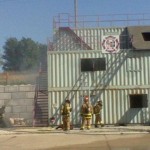 For over 20 years, The Manhattan Fire Department has held its annual open house to coincide with National Fire Prevention Week.  This year's open house took place Sunday at the Headquarters Fire Station.
Family friendly educational activities were offered all day, from noon to 4 p.m., including-fire engine rides on "Old Engine 1", fire demonstrations, tours, and entertainment from "Frankie" the firefighter.  The fire demonstration allowed large crowds to view a very real fire scenario, and an opportunity to use a real fire hose.
Deputy Fire Chief, Ryan Almes shared the details of the demonstration-"There is smoke inside of the burn building, and they are simulating a tact team going inside and extinguishing the fire.  There is another team entering from the outside of the building that will simulate a rescue."
The theme of this year's National Fire Prevention Week was "Prevent Kitchen Fires".  Children received pot holders and other information that went along with the theme.
Other entities were at the open house, including the Junction City Fire Department and the Kansas Forest Service.