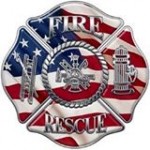 Updated Sunday morning:
The owners of the home have been identified as Michael and Rhonda Eaves.
####
A fire early Saturday morning destroyed a home in rural St. George. Pottawatomie County Fire Supervisor Bruce Brazzle tells KMAN the 3:30 a.m. fire in the 3400 block of Burr Oak Road was a rekindled fire from an earlier reported chimney fire, caused by a wood-burning stove.  The original fire was reported at 8:30 Friday night.
The owners reported the smell of smoke at 3:30 a.m., but were able to get out of the house uninjured. Brazzle says the attic was fully involved in flames when firefighters arrived. The fire had apparently rekindled, possibly in insulation in the attic. About 30 firefighters from St. George, Wamego, Louisville, and Blue Township responded. Brazzle says he was on the scene until 8 a.m., and left two crews on stand-by until noon Saturday.
The house was basically destroyed, with only the walls standing–at an estimated loss of $150,000 to $200,000.
Brazzle did not have information available on the name of the owner when first contacted by KMAN but that information should be available later.