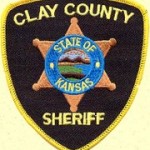 A mobile home fire in Clay County led authorities to finding an apparent marijuana growing operation this past weekend.
Clay County Sheriff Chuck Dunn tells KMAN Wakefield firefighters were called to the 500 block of Elm at about one a.m.Saturday. While fighting the fire and attempting to determine a cause, an apparent grow operation was discovered and Dunn's office was notified.
Dunn says more than 50 marijuana plants were found in various stages of growth. In addition grow lights, an automatic watering system,and ventilation system were discovered.
Donald Trank, 54, was arrested on charges which include unlawful cultivation and possession of marijuana. Trank's bond was set at $20,000. 
Sheriff Dunn adds the fire rekindled Saturday night and ended up burning up the rest of the mobile home. The cause both times has not been determined.