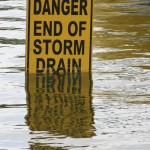 Yet another meeting on proposed new flood maps was held Wednesday evening, just a night after the Manhattan city Commission examined the matter.
City Floodplain Manager Chad Bunger tells KMAN there were actually two sessions Wednesday night, one for professionals such as realtors and the other for general members of the public.
Bunger adds the turnout was good at both sessions. A total of 100 people  signed in and Bunger says with those people came questions. Specifically, the City Planner says questions dealt with future planning and how the city will manage development in that area to eliminate flood risks.
Bunger says following the three recent meetings, which included two open houses and the Manhattan City Commission work session, members of the public can still contact his office. Bunger also recommends anyone who is in a flood plain to get with their insurance agents to discuss requirements.
The Wednesday evening meeting focused on the Wildcat Creek Watershed area. A meeting a few weeks ago dealth with the Big Blue River Basin.