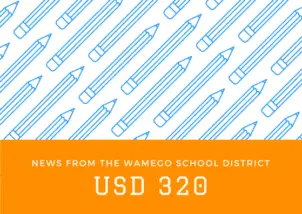 Updated early Friday:
West Elementary School in Wamego is back in session Friday after being evacuated for a gas line break Thursday morning. Wamego USD 320 Supt. Tim Winter tells KMAN school officials were given permission to return to the building by 12:30pm Thursday.
Although students were dismissed for the day, the teaching staff did finish their day in the school working yesterday. Winter explains the city was able to cap the leak much quicker than originally anticipated.
Winter also told KMAN early Thursday afternoon,  school officials received notice from Wamego Police at approximately 9:25 a.m. that there was a gas leak near West Elementary. He says they were advised to evacuate all students and staff. And by 9:45 all students had been evacuated and parents were notified to pick up their children at Wamego middle school.
###
(earlier reports)
Updated 11:30 a.m. Thursday:
Wamego Fire Chief Phil Stultz tells KMAN a gas line break occurred during road construction in the area of fourth and Parkview on the west side of town Thursday morning. Stultz adds some residents close to Fourth were told to evacuate, with others living farther away being notified but given the option to evacuate or not.
The gas company will need to come in and make repairs which will likely be on Friday–and gas will be shut off for that process.
Stutltz assured KMAN residents are safe–and actions were taken as a precaution.
###
(earlier report)
Wamego  West Elementary school was being evacuated to Wamego Middle School Thursday morning due to a reported main gas line break near West Elementary. School at the elementary school only will be cancelled the rest of the day. School officials indicate this is precautionary as law enforcement has advised that the school should be evacuated and cancelled.
Those wanting to get messages to their children can call the middle school at 456-7682.