Governor Sam Brownback visited Woodrow Wilson Elementary School Tuesday afternoon to present a special award to its students and staff.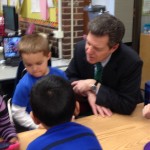 Principal Deb Nauerth expressed her gratitude and pride in her staff for recieving the Governor's Achievment Award, saying "it was so exciting, we are elated at Woodrow Wilson. This is a team effort, and all of our faculty, staff, students and parents contributed to such an honorable recognition."
Only 62 schools in the state of Kansas recieved this award, and it is Woodrow Wilson Elementary's first time getting such recognition. Governor Brownback says this is one of many examples of Kansas' exemplary educational system.
"Kansas is a great place to grow up," Governor Brownback mentioned to KMAN when asked about this award's effect on the school. "It's a great place to get an education. And, it's a great place to launch. I hope [Woodrow Wilson Elementary] takes off with it."
The governor did not only visit the school to present this award, but also to promote his proposed increase in funding toward kindergarten-level education. This $16 million, or 10 percent increase in funding would bring half-day kindergarten classrooms to full-days.
"Early childhood education is one of the most effective places we can put funds into," Governor Brownback says, "and that's why I think this is important.If a child can read, and can read well, it opens up their world. If they can't, and unfortunately too many of our kids can't read by the fourth grade, their world gets smaller, because they just don't have the opportunity."