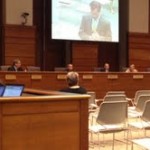 Guns for law enforcement are to be stored in local schools, according to Riley County Assistant Police Director John Doehling.  Doehling addressed the matter with Riley County Law Board members Monday, as part of a grant RCPD is receiving. Doehling stressed the rifles would be stored only for use in case of an extreme school violence situation.
Law Board Member Dave Lewis asked about the cost of the storage facilities, which Doehling says RCPD will have to purchase out of its own budget fund. According to Doehling administration of the schools is on board with this concept and given their concurrence.
Law board members Monday said yes to the grant application process, with nearly $21,000  to go primarily to an online reporting system. A small portion of the grant, about $2,500, would go toward the purchase of three rifles for storage in local schools for use of law enforcement officers who are in the schools as a resource officer.
The measure passed unanimously by the six board members in attendance.
It's almost that time of the year again for Country Stampede held near Manhattan, with  law board members approving a contract for service at the Stampede. Riley County Police Director Brad Schoen told board members not much is new other than the dates. Stampede is set for June 27th through the 30th.
Expiration of a shooting range property lease for Riley County Police is coming up in a few years, and the discussion continues as to whether to renew at the current location and make some alterations, or move to land owned by the county in the southern section.  RCPD Captain Tim Hegarty  provided an update regarding the shooting range to law board members Monday, complete with pictures.  Hegarty indicated it's not so much a question of cost, as both would cost about the same.
Director  Schoen told the group the timing is of concern. The current lease is up in 2019.
Also presenting Monday was Trent Armbrust with the Community Advisory Board, with the group's quarterly update. (pictured)