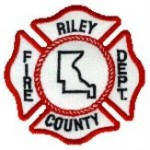 Area firefighters have been extremely busy this past weekend, with several grass fires, fueled by high winds.
Pottawatomie County firefighters reportedly had a large fire south of Olsburg around Dry Creek/Living Water Ranch–with eight to nine-thousand acres involved. Fort Riley and Riley county firefighters assisted Pottawatomie county forces with that fire that kept firefighters out all night Sunday.
Riley County Fire Chief Pat Collins adds his firefighters were out in full force–with 35-40 firefighters over the weekend, probably each working 20 to 30 hours. Collins reports four or five on Friday 12-15 on Saturday, and five or six on Sunday. The only damage reported involved six round bales at the top of Spring Road in the Mayday area near the Washington County border. Another east of Riley near Walnut Crek burnt right through 200 acres of green wheat and even crossed highway 24, causing the closing of highway 24 for a short time earlier in the weekend.
Collins says while some of the fires involved ones people thought were out but rekindled, at least six fires seemed to be intentionally set in ditches.