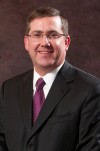 An enrollment cap and increased tuition could be the future of Kansas State University.
According to President Kirk Schulz, the lack of funding from the state level could be heading the school in just that direction.
"Investment in high education is going to yield a lot more in the state in the long run, but you have to put in those dollars," said Schulz.
Because of the lack of funding moving forward, K-State is moving ever closer to an enrollment cap.
"We're coming very close to the point where we need to say this is the number of students that we can educate well with the quality that everybody expects for the amount of money we get from the state and we're going to have to cap that at that particular number," said Schulz.  "We can't afford to continue to add students without adding faculty, staff, facilities, and infrastructure.  Otherwise we start compromising the quality of the educational degree program."
Though, at this point not much can be decided as the legislative session is in recess for the holiday break, but come January Schulz is looking to change tactic for the upcoming discussions.
"What we're going to do is stick with state dollars," said Schulz. "We're going to look at the money we get from tuition and fees and the money we get from the state of Kansas and we're really going to focus a lot of what we talk about around those two things."