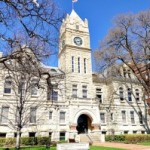 Michael DeChant (19)  of Ogden appeared in Riley County District Court, via web cam, Tuesday afternoon.
DeChant is charged with possible first degree murder, after 6 month old Dominick Lubrano died.  The original charge was aggravated battery, with his bond set at $500,000.  After the child passed away, his bond increased to one million dollars.
DeChant appeared with his attorney-Larry McRell, who asked that the case be set for another status hearing, in order to give him time to speak with the county attorney.
His next appearance was set for April 9th at 1:00 p.m.