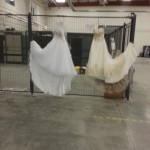 Bargain hunters from all around the Flint Hills region descended upon the National Guard Armory in Manhattan this weekend in search of a bargain . The Junior League of the Flint Hills held its annual Next to New Sale to raise funds that will go toward funding JLFH programs in the Flint Hills community. Items up for sale included childrens clothing, electronics, and even two wedding dresses. Chair for the event Penny Pierce says that the most sought after items were the larger items such as sofas and coffee tables that usually have a high price tag, but can be gotten for a good deal at the event.
Assistant Chair for the sale Tanya Bradley added that approximately three hundred or so people have attended the event in the past year, and the same amount was expected this year. She also explained a new program the organization took over from the Flint Hills Breadbasket recently, the Adopt a family program. This program matches up families who are in need of holiday items such as gifts for their children, with volunteers who then "adopt" the family to provide them with whatever they need to have a good holiday. Proceeds from this event and others like it will go to programs such as this.
Each member of the JLFH donated at least one hundred dollars worth of items for the sale.