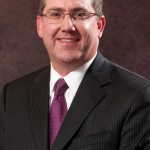 With the recent budget decisions at the state level, local universities are seeing a further reduction of funds.
For Kansas State University, this is causing some decisions to be made for the future.
Dr. Kirk Schulz, president at K-State, talked in a recent interview of the possibilities to come, some of which will lead to a reduction of the school.
Schulz made mention come fall, the discussions will begin on capping student enrollment.
"I think we have to look at a cap on enrollment", said Schulz.   "We just got to say look if this is the money we're going to get, this is the maximum number of students we can take in and those discussion will be occurring at K-State this fall."
With the cut of six million dollars from the state, that's putting more pressure on tuition and fees to fund the running of the school.  However, this doesn't help with paying teachers.
"You look at the budget for Kansas State University," Schulz said.  "The huge, vast majority of those dollars are salaries dollars to people."
According to Schulz, any changes that come will not be the fault of the university, but will be the legislators.
"What we have to do is find a way to make sure we are messaging, so that if we are cutting back or capping, we really fix the blame with the people who are not providing enough dollars for us to do what we need to for the state of Kansas," Schulz said.