A Kansas State University student was a big winner with the Kansas Lottery–although it's been a long time coming.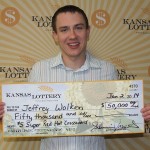 Jeffrey Wolken, 26,  scratched off a 50-thousand dollar prize on a $5 Super Red Hot Crossword instant ticket last July, but just claimed it at Lottery headquarters this week.  Wolken was told by his father, who is a banker by profession, to hold off on claiming his prize until the new year.
Wolken told KMAN that since July the ticket has been stored in a safe deposit box. Wolken recalled how he came to buy the ticket. He said he had some time to kill one day last July while waiting for his girlfriend to get out of class, so he stopped at a convenience store to get a soft drink and picked up the $5 ticket while he was there.
He added that was kind of unusual, because he doesn't usually buy $5 tickets and usually gets the $2 Bonus Crosswords. Wolken, whose hometown is Beloit, is studying for his B.S. in Construction Science Management. He told Lottery officials he would use the prize money to pay school expenses and maybe purchase a different vehicle. Wolken also hopes to take a ski vacation over spring break.
Wolken's lucky Super Red Hot Crossword ticket was purchased at Dara's Fast Lane, located at 1816 Claflin Road in Manhattan.