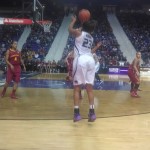 Leticia Romero scored 27 points and Katya Leick added 23 as the Kansas State Women's Basketball team recorded its biggest win of the season to date with an 80-74 upset of 11th-ranked Iowa State before 8,221 on Pack The House Night at Bramlage Coliseum.
After the Cyclones opened the game with a 5-2 run, K-State stormed out to a 15-5 lead on a 13-0 run. After the Cyclones hit a pair of three-point baskets to close the gap to 15-11, the Wildcats continued their roll with another 10-2 surge to lead 25-13 with 4:18 to go in the first half. K-State stretched the lead to as much as 13 points before settling for a 30-22 halftime lead.
In the second half K-State was able to maintain momentum by trading baskets with the Cyclones then steadily coming up with key Defensive stops and then converting opportunities on the other end. The Wildcats looked like they were going to cruise to victory with a 67-51 advantage with 3:30 left but Iowa State, one of the better three-point shooting teams in the country started a furious comeback late in the game and closed to within 77-74 with 33 seconds left on a three-pointer by Seanna Johnson. However Romero and Brianna Craig sealed the victory by making three free throws between them and getting a key defensive stop in the final 10 seconds.
Craig was the third Wildcat in double figures with 12 points while four Cyclones scored in double digits led by Brynn Williamson's 17 points. Iowa State Senior Forward Hallie Christofferson who averaged 21 points a game coming into Saturday Night's contest was held to just four points. Iowa State (14-3, 3-3) has dropped three straight contests after starting the season 14-0.
K-State recorded its first win against the Cyclones on the Bramlage hardwood since January 31, 2010. K-State has since defeated Iowa State twice in the Big 12 Tournament at Kansas City's Municipal Auditorium.
Among the spectators in the stands tonight was former Nebraska Cornhusker and current Detroit Lions Defensive Lineman Ndamukong Suh who is a friend of Leick's from her days at Nebraska.
Kansas State (8-9, 2-4) will next be in action on Wednesday when they travel to Waco, Texas to take on three-time defending Big 12 Champion Baylor with tip-off set for 7 p.m.
Stay connected to all things KSU on the go just text EMAW to 88474
For full video wrap-ups, including analysis, highlights, coaches & player interviews of K-State Football & Basketball check out PowerCatGameday.com