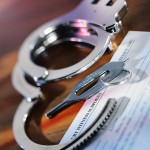 Information finally was released the end of last week on activity in Manhattan on Park Grove Drive KMAN had been investigating since Thursday morning. Neighbors in that area had contacted KMAN regarding activity that appeared to involve Kansas or Federal Bureau of Investigation agents. Riley county Police told KMAN Thursday they had no information or involvement in the matter.
But as KMAN announced Friday morning,  Weiqiang Zhang, 47, of Manhattan who lives in the 11 hundred block of East Park Grove is being charged with conspiracy to steal trade secrets. Further details released after Friday's announcement indicate alleged attempt to steal rice seed samples from a Junction City facility–then provide those samples to a Chinese group that had been visiting the United States.
As neighbors had told KMAN Thursday morning, a search had been conducted at Zhang's residence Wednesday, and that search apparently resulted in the finding of rice seeds similar to ones the visiting Chinese delegation tried to take home. Customs agents found the stolen seeds in the group's luggage.
Also arrested was a 63 year old fellow agriculture scientist from Arkansas, identified as Wengui Yan. The two could each face 10 years in prison.