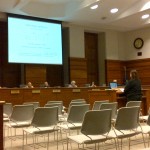 Affordable housing was a major topic of discussion during Tuesday night's Manhattan City Commission meeting. The Willow Ridge Apartments would offer 2-4 bedroom apartments and townhomes for individuals making a specific amount of income.
Two bedroom apartments were estimated to begin at $415/month, according to Jill Jacoby with Manhattan Area Housing Partnership. Rents are restricted for 30 years, and there are 28 total units.
Jacoby proposed a request to waive building permit and utility connection fees for the construction of affordable housing units. These fees total just over $24,000.
Commissioners raised a variety of questions, including whether tenants would be required to vacate once they make a certain amount of income. Jacoby said they would not be asked to leave, but their rent would increase.
Commissioner, Karen McCulloh seemed in support of the effort and commented, "the more units we have, the more efficient we can be". Commissioner, Usha Reddi commented that she agreed with McCulloh, as people often live elsewhere (Wamego, Westmoreland, etc.) and commute to work because it is cheaper.
"As we throw tax dollars to do this, it makes things less affordable for other tax payers", commented Mayor Pro Tem, Wynn Butler. This seemed to be Mayor, John Matta's major concern with the housing, as it puts an additional strain on tax payers.
Commissioner, Rich Jankovich made a motion to approve the request for waiving building permit and connection fees. The motion passed 4-1 with Matta opposing.
————-
The two other general agenda items involved goals and priorities for 2014, and reviewing permanent financing options for the downtown conference center and adjacent parking garage.
During the work session portion of the meeting, City Budget and Finance Officer, Bernie Hayen shared details about the budget, and it's history.
The total city budget is just over $130 million, but the city debt amounts to $273,082,578. Hayen commented on the debt and stated, "we need to monitor that debt, it needs to go down, and I'm confident it will".
Butler said he wished to keep the mill levy, which increased by 1.297 for 2014, flat with last year for the 2015 budget. He mentioned he believes there is enough funding in place, it just needs to be allocated better.
The commission's first budget work session is scheduled for May 13th.