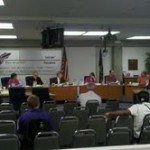 Prior to prom season, the Riley County Police Department helped perform a mock car crash for Manhattan High School students to view.  This was in the hopes to show students the dangers of drunk driving and texting while driving.
During Wednesday evening's Manhattan Ogden USD 383 school board meeting, MHS student, Haley Heaton spoke about her concerns with these demonstrations during the citizen comment portion of the meeting.
Heaton described the mock car crash as "insensitive", as many students have dealt with similar traumatic situations recently.  She mentioned two MHS student deaths in particular-Brett Bolton who was killed in 2012 on Marlatt Avenue, and Naomi McClendon who died in March of this year.
She stated that she is aware mock car crashes can be effective, but asked that alternative options be available for students who do not wish to view the demonstration.
School Board Member, Darell Edie said he was very impressed a student came before the board to express their concerns, as this is a rare occurrence.
—————
Several construction projects and technology related items were approved during the meeting.
First was the Manhattan virtual academy curriculum purchase, which was approved unanimously.
Four improvement projects were approved-the Northview structural improvements design, the Manhattan High School east storm water improvements, the playground surfacing for three elementary schools, and the Manhattan High School west campus chiller modification design.
Lastly, a $20,000 purchase was approved for Marlatt Elementary, for additional iPads.