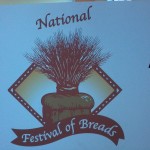 Eight competitors from around the United States competed in the National Festival of Bread's Bread Baking Contest. The festival was held at the Hilton Garden Inn Saturday.
Kicking off at 9 a.m., the nation's only amateur bread-baking competition began. Originally, 500 entries were submitted, and eventually were narrowed down to the top eight contestants. Each of the eight individuals had their own temporary kitchen and baked bread live for on-goers to observe.
One of the competitors, Elke Roby of Lincoln, Nebraska, made the attempt years ago to "bake without the box". Once this was successful, she began an exploration in baking that brought her to the contest. Roby submitted her "German Streusel Cranberry Bagels" for the competition.
Besides the bread-baking action on the main floor, the stage featured demonstrations of how to bake various breads. Mardi Traskowsky, of Herington, was the first ever Youth Category winner with her "Family Italian Bread". Traskowsky showed the various stages of the bread throughout the entire baking process. The crowd sang "Happy Birthday" to Traskowsky as it was her 15th birthday.
A Kid's Activity Station was set up near the stage. Children learned to grind their own wheat, knead dough, make tortillas, and form dough into pretzels.
Taste testing and a trade show, featuring various types of vendors, took place throughout the day. The awards ceremony and auction occurred later in the evening.