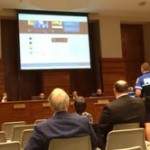 As announced a few weeks ago, the Riley County Police department website has a brand new look–and Public Information Officer Mat Droge addressed Riley County Law Board members Monday regarding the new site. Law Board member Dave Lewis was the only one with a question, referring to no more weekday media briefings during most of the week. Droge responded there's still accessibility, with the media able to contact him at any time.
News releases are now posted on the website on a daily basis. Another feature of the new website is a way to check out crime in your own area, whether it's residential or business. Droge also went over features for Spanish speaking people and even those who are blind, in terms of descriptions of pictures on the website.
A glowing report from an employee engaement survey was presented during the Riley County Law Board meeting, with RCPD described as a healthy organization by Ted Davis of Grace Strategic Services. Compensation and benefits were even seen very favorably by employees, which he says has never been seen by his group in its 12 to 13 year history. Board members were pleased by the results, with Rich Jankovich and John Matta expressing their favorable opinions.
Cautions mentioned were described by Davis as things to pay attention to as a gentle reminder. They included enhancing a supportive work environment, division level teamwork, and the level of trust throughout.