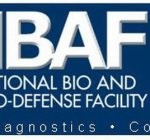 President Barack Obama sends Congress a budget proposal that includes $714 million for construction of the NBAF facility at Kansas State University.
That would be the largest proposed federal expenditure for the project to date.
Sen. Pat Roberts of Kansas says that the recommendation signals the administration's support for building the $1.15 billion lab, which will study large animal diseases and develop measures to protect the nation's food supply.  KMAN spoke to Roberts, who said "This is great news for Kansas".
The Department of Homeland Security will build the lab to replace a facility at Plum Island, N.Y.  Roberts mentioned the facility, in his opinion, it is "completely degraded".
Roberts, a Republican, says the proposal will require additional financial commitments from Kansas, which will be worked out by Gov. Sam Brownback and legislators.