Gene Anderes – Posted 9/25/2016
Edwin Eugene "Gene" Anderes, age 67 of Salina, passed away Wednesday, September 21, 2016 at the Wesley Medical Center in Wichita.
He was born on July 8, 1949 in Abilene, the son of Edwin Paul and Jennie Ruth (Rediker) Anderes.  He graduated from Chapman High School in 1967.
On November 4, 1972 in Wakeeney, he was married to Margaret Ann Scott.  They later divorced, but remained friends and did many things together and always put their children and grandchildren first.
Gene most recently was a truck driver for Keller Trucking.  He was a member of the Gypsum United Methodist Church and Gypsum Lions Club.  He was the Swine leader for the Gypsum Valley 4-H Club for many years and enjoyed raising and watching his sons show swine at the Saline County Fair.  He enjoyed farming, woodworking and attending his grandchildren's many school and sports activities.
He is survived by two sons, Jarred Anderes and wife Jenny of Riley and Nathan Anderes and wife Tracy of Glen Elder; three grandchildren, Ethan and Emma Anderes of Riley and Raylynn Anderes of Glen Elder; his mother, Jennie Ruth Anderes of Elmo; two brothers, Bob Anderes and wife Patti of Elmo and Richard Anderes of Elmo; one sister, Joyce Elburn of Abilene and many nieces, nephews and friends.
He was preceded in death by his father, Edwin Paul Anderes.
Funeral services will be held at
10:30 A.M.
,
Monday, September 26, 2016
at the Gypsum United Methodist Church in Gypsum, with Rev. Mitch Reece and Rev. Theresa Forshee officiating.  Interment will be held at
3:00 P.M.
Monday
at the Riley Cemetery, east of Riley.  The family will receive friends from
4:00 until 6:00 P.M.
Sunday
at the Gypsum United Methodist Church.
A memorial has been established for the Gypsum United Methodist Church.  Contributions may be left in care of the Anderes-Pfeifley Funeral Home in Riley.
Condolences may be left for the family at www.pfeifleyfuneralhome.com.
_____________________________________________________________________
Grace Emily Schroeder Gates – Posted 9/28/16
Grace Emily Schroeder Gates, 82, died peacefully in Bramlage House at Meadowlark Hills on September 24, 2016 in Manhattan, KS. She was born November 4, 1933 in Hutchinson, KS the daughter of Jacob and Justina Hiebert Schroeder. She attended Hutchinson schools, graduating from Hutchinson High School in 1951. After high school she moved to Wichita where she worked for The Coleman Company and the Kansas Department of Labor.
She met Wm. Preston Gates in Wichita and they married in Downey, CA in 1953. The couple moved to Manhattan in 1957 where they made their home and raised their family. Grace managed the family apartment business and later worked and retired from the Kansas Department of Human Resources where she worked as a Claims Examiner. After her retirement Grace enjoyed her time quilting and gardening, teaching Sunday School and Vacation Bible School at Sedalia Church, working with her friends at All About Quilts, and visiting with her many friends.
Grace is survived by her children, daughters, Joni Gates of Ocoee, FL; Carol Mattson (John) of Inman, KS; Mary Gates of Wamego, KS and son James Gates (Gretchen) of Woodbridge, Va;.her brother, Wallace Schroeder; six grandchildren, Sarah Odgers Kennedy, Curtis Odgers, Nicholas Mattson, Virginia Hagen-Gates Phifer, India Hagen-Gates and Frederick Hagen-Gates; three great grandchildren, Ian Kennedy, Quinn
_______________________________________________________________
Lloyd Johnson – Posted 9/25/2016
Lloyd Oscar Johnson, age 79 of Riley, passed away Wednesday, September 21, 2016 at his residence.
He was born on December 21, 1936 in Junction City Municipal Hospital, the son of Oscar and Martha (Strauss) Johnson.  He was baptized in St. Paul's Lutheran Church, Clarks Creek on January 17, 1937 and joined that church on April 2, 1950.  He later joined the Riley United Methodist Church.
He attended rural schools in Geary County and graduated 8th grade in 1950.  He then attended Junction City High School.  He worked for Alexander and Son Motors in Junction City, before joining the U.S. Navy in September 1956.  He served four years as an Engineman Second Class.  When discharged, he returned to Riley, where he worked as a mechanic for Medlin Chevrolet, Inc. for 18 years. In early 1979, he formed his own company, PJ's Service.   He sold the business and retired in 2004.  He was always willing to help anyone that needed help with their vehicles, no matter the time of day.
Lloyd felt it was important to serve in the community.  Shortly after moving to Riley, he offered his services for two terms in the Riley City Council, was a member of the Riley Volunteer Fire Department and a leader of the Explorer Scouts.   He also served on the U.S.D. 378 Board of Education and was the Mayor of Riley.  During his term as mayor, he was most proud of the building of the Riley Municipal Swimming Pool.  Lloyd and Marilyn were honored as being Grand Marshalls of the Riley Fall Festival in 1993.
He loved the outdoors and spent a lot of time fishing and hunting.  He taught Hunter's Safety for many years and was most proud of helping the more challenged students pass the class.  His sons have many great memories of hunting and fishing trips and the special
Sunday
night meals after a long day spent outside.
Lloyd's greatest joy came from his family.  On July 30, 1961 at the Riley United Methodist Church, he married Marilyn Walter.   Together they raised two sons.  The family enjoyed camping, sharing
Sunday
meals and stories and the annual summer vacations.  They always took extra time to visit friends and family.  The most special treasures in his life were his grandchildren.  He spoiled and loved them in many ways, especially enjoying Swedish pancakes and popcorn.
He is survived by Marilyn,  his two sons, Mark E. (Kimbra) Johnson of Juniata, Nebraska and Scott E. (Stephanie) Johnson of Manhattan; five grandchildren, Jacob D. Johnson, Jorji Jo Johnson, Madison E. Johnson, Taylor M. Johnson and Jarett M. Johnson.  Lloyd also considered Keith A. Hageman as his "adopted" son along with his wife (Larissa) and their children, Kodi and Kayden of Broken Arrow, Oklahoma; one brother, John E. (OK Sun) Johnson of Manhattan; one sister, Eva M. (Lynn) Zimmer of Leawood; and one sister-in-law, Kay Johnson of Brownstown, Indiana.
He was preceded in death by his parents; four brothers, Robert L. Johnson, Donald D. Johnson, Raymond P. Johnson and Warren D. Johnson and two half-sisters, Alma C "Jean" (Perry) Grisham and Ingeborg O. "Gwen" (George) Goodin.
Memorial services will be held at
10:30 A.M.
Wednesday, September 28, 2016
at the Riley United Methodist Church with Rev. Bill Eisele officiating.  The family will receive friends from
6:00 until 8:00 P.M.
Tuesday
at the Anderes-Pfeifley Funeral Home.  Inurnment will be in the Riley Cemetery.
Memorials have been established for KSU Johnson Cancer Research Center and Kansas Department of Wildlife Parks and Tourism for hunting, fishing, aquatic and youth outdoor education program.  Contributions may be left in care of the Anderes-Pfeifley Funeral Home.
Condolences may be left for the family at www.pfeifleyfuneralhome.com.
---
Joan Leach – Posted 9/25/2016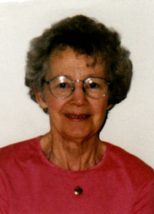 Joan (Baldwin) Leach, age 87, of Manhattan, Kansas, died Friday morning, September 23, 2016, at her home.
Joan was born in Louisville, KENTUCKY on September 15, 1929, the only child of Elmer Lee ("Red") and Margaret Tucker Baldwin.
When she was five years old, the little family of three moved to the country where Red and Margaret ran a general store, so Joan was "the merchant's daughter." It was there in a revival at the Roley Christian Church she accepted Jesus Christ as her Savior and Lord at age 10, and, along with 15 others, was baptized into Christ in Mill Creek. At a young age her mother had her singing in "the choir" (just a group of people who would go sit in designated rows of seats and who would help "lead out" in the congregational singing), take part in Christmas programs, and sing solos. She attended elementary school in a one-room schoolhouse at Roley.
Pre-teen years found her riding with her daddy in his huckster truck (taking store merchandise to people farther back in the Kentucky hills), swimming in the creek, learning to play volleyball, enjoying her many school friends, going to "the picture show" with her parents in a nearby "town" (Campbellsville, Ky.), learning to cook on a wood-burning kitchen stove, and helping her parents in the store.
High school days were filled with roller-skating, movies, volleyball (she was the only girl on the team for awhile), Sunday afternoon outings with "the gang," and church activities.
She graduated from high school in 1947, and enrolled in Atlanta Christian College (Atlanta, Ga.) in January 1948. Those were the years of serious Bible study and music training, new friendships, cheer- leading, first train and airplane travel, and Christian service.
She led music and sang solos not only in Georgia but also during revivals and youth crusades in Kentucky, Tennessee, Mississippi, Florida, North Carolina, and even up the east coast to Maryland. She graduated in May 1951, and worked as a song evangelist during the following summer.
After corresponding for 8 months—meeting for the first time in July, and working together in a revival in September—she and Donn Allon Leach were married in Perryville, Ky. on Thanksgiving Day, November 22, 1951. Theirs has been a faithful and loving marriage for almost 65 years. They served together first in the Greens Fork Christian Church in Indiana, where their son Dann Edward was born. This was also the beginning of their passion for collecting antiques. Donn and Joan then went to serve at the First Christian Church in Kenosha, Wisconsin, where their second son John Martin was born. They moved to Lincoln, Illinois in 1959 where they both taught in Lincoln Christian College, and built a home on campus. Joan also taught a large class of young adults ("The Merri-Mates") at Lincoln Christian Church for 13 years. She received a Master of Arts degree from Lincoln Christian Seminary in 1969. In 1972, they moved to Manhattan, Ks. where they both taught at Manhattan Christian College and where she helped to begin the college's first "Woman's World." As a member of University Christian Church, Joan taught young adults of "The Christian Builders Class" for 16 years. Donn and Joan next spent almost 7 years in England, teaching at Springdale College and working with Churches of Christ there, then worked 4 years in Virginia—2 years with a new church in the Richmond area, and 2 years with a long-established church in Williamsburg. Both in England and in Virginia, Joan organized, planned, and decorated for women's groups. Her philosophy for women's programs was that every ladies' meeting should be an OCCASION, not merely an occurrence. In 1999 they returned to Manhattan to be nearer their family and to once more become part of University Christian Church and Manhattan Christian College. Joan again helped to organize women's programs for years. A Christmas Open House was a tradition of their home for many years.
Joan was the author of How To Vitalize the Young Adult Class and co-author of First Steps, and Caring for Babies. She also wrote numerous devotional and educational articles published by Standard Publishing Company.
For 6 years, Joan led the Senior Adults Ministry of University Christian Church, resigning at the end of 2010. She had also taught a small women's Sunday School class for awhile.
Joan's hobbies were genealogy, heritage scrap-booking, card-making, reading, and decorating for special church events. She was a member of Riley County Genealogical Society and Riley County Historical Society. She and her husband refurbished the old stone Kimball house on Mary Kendal Court and filled it with their collection of antiques. They lived there from 1974 until they went to England in 1989. She leaves her husband Donn of the home; son Dann Edward Leach and his wife Cindy (Barnes) of Valley Center, Ks.; son John Martin Leach and his wife Kristi (Rust) of Longmont, Co.; five grandchildren: Michael David Leach, Ryan Edward Leach, Daniel Joseph Leach, Aaron Tucker Leach and Hayley Anne Leach; a sister-in- law, Mrs. Nancy Hanson of Olivet, Michigan; and numerous "Kentucky cousins."
The family will receive friends during a visitation from 6:00 until 7:30 p.m. Monday, September 26, 2016, at the Yorgensen-Meloan-Londeen Funeral Home.
Funeral services will be held 10:00 a.m. Tuesday, September 27, 2016, at the University Christian Church, 2803 Claflin Road in Manhattan. Interment will follow in the Sunrise Cemetery. On-line condolences may be left for the family through the funeral home website located at www.ymlfuneralhome.com.
A memorial has been established for the Christian Holyland Foundation. Contributions may be left in care of the Yorgensen-Meloan-Londeen Funeral Home, 1616 Poyntz Avenue, Manhattan, Kansas 66502.
---
Lila L. Stites – Posted 9/25/2016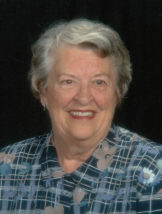 Lila L. Stites, age 88, of Manhattan, died Thursday, September 22, 2016, at Meadowlark Hills-Wroten House.
She was born on June 30, 1928, in Wellington, Kansas, the daughter of Harley H. and Jewell Hyten. Lila attended her school years in Wellington, and graduated from Wellington High School in 1946. In 1946, she enrolled at Kansas University and joined the Alpha Chi Omega sorority. Lila graduated in 1950, with honors, in music and education.
While at KU, she met the love of her life, John F. Stites, who was also a student at KU. They were united in marriage on June 18, 1950 and spent the following 66 years as husband and wife.
After graduation, John and Lila moved to Kansas City, where Lila taught music at Prairie Village grade school.
In 1954, Lila and John returned to KU, where John entered law school. In 1956, they moved to Manhattan where Lila was a homemaker and John entered law practice with Richard D. Rogers. For a number of years Lila was also part owner of Creative Travel in Manhattan, along with several wonderful partners.
Lila was active in many clubs and organizations in Manhattan, including PEO Chapter DE, where she was past president; Manhattan Country Club, Riley County Republican Party, where she was past precinct committee person; Domestic Science Club; President's Club of Kansas State University; music club and Alumni Associations of both KSU and KU. She enjoyed playing golf, cards, working outdoors, and taking many trips with her husband and family.
Lila and John had three sons, David, Jerry and Tim. David preceded her in death in 1984. She was also preceded in death by her parents, younger sister: Bonnie Zrubek and brother: Donald Hyten.
She is survived by her husband, John, of the home, her two sons: Jerry Stites, Lawrence, KS; and Tim Stites, St. Joseph, MO. She is also survived by three grandchildren: David Stites and his wife Stephanie, Zach Stites and Katie Stites.
The family wishes to give their thanks to the personnel of Wroten House and Meadowlark Hills for the great care provided to Lila during her past few years.
The family will receive friends during a visitation from 7:00 until 8:00 p.m. Thursday, September 29, 2016, at the Yorgensen-Meloan- Londeen Funeral Home.
Funeral services will be held 2:00 p.m. Friday, September 30, 2016, at the Yorgensen-Meloan- Londeen Funeral Chapel with Reverend Ben Duerfeldt officiating. Private interment will be in the Sunset Cemetery in Manhattan.
A memorial has been established for the Alzheimer's Association. Contributions may be left in care of the Yorgensen-Meloan- Londeen Funeral Home, 1616 Poyntz Avenue, Manhattan, Kansas 66502.