Donald H. Bechtel – Posted 3/21/2017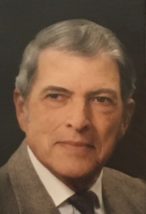 Donald H. Bechtel, age 90, of Manhattan, Kansas, died Saturday morning, March 18, 2017, at his residence.
He was born on October 12, 1926, in Manhattan, Kansas, the son of Henry and Edith (Black) Bechtel. Don was a lifetime area resident where he was a graduate of the Sacred Heart Academy and attended Kansas State University.
Don was in the restaurant business for many years where he managed Scheu's Café in Manhattan for 18 years prior to going into business for himself as the owner and operator of the Downtown Café. He then went to work for the Kansas Department of Health where he was the Chief Sanitarian Supervisor for food service and lodging throughout the state. He retired after more than 20 years.
Don was a member of Seven Dolors Catholic Church. He was quite active with the Knights of Columbus where he was a 4th Degree Knight, former President and former District Deputy. He enjoyed bowling, fishing, gardening, working in the yard, and trips to Destin.
On August 26, 1948, in Manhattan, Kansas, he was united in marriage to Arlene Dowling. She survives of their home. Also surviving seven children: Donna Seidler (Rich), Manhattan, KS; Joleen Jordan (Wayne), Delaware, OH; Theresa Kientz (Kevin), Raymore, MO; Linda Hardwick, Eudora, KS; Jon Bechtel (Cheryn), Manhattan, KS; Tom Bechtel (Terri), Ponca City, OK; and Amy Bechtel of Manhattan. One sister: Joan Weiser of Topeka, KS; twelve grandchildren: Brian Seidler, Brad Seidler, Melissa Kientz, Jarod Kientz, Kristen Kientz, Kyle Hardwick, Jesse Hardwick, Reece Kohn, Gavin Kohn, Allan Bechtel, Erin White, Jeremy Johns and nine great grandchildren also survive.
He was preceded in death by his parents.
A Wake Service will be held 6:30 p.m. Thursday, March 23, 2017, at the Yorgensen-Meloan-Londeen Funeral Home with a visitation following until 8:00 p.m.
Mass of Christian Burial will be held 10:00 a.m. Friday, March 24, 2017, at the Seven Dolors Catholic Church in Manhattan with Father Kerry Ninemire as celebrant. Interment will follow in the St. Patrick's Catholic Cemetery on Elbow Creek east of Manhattan.
To leave an on-line condolence for the family, please visit the funeral home website at www.ymlfuneralhome.com.
A memorial has been established for the Seven Dolors Catholic Church. Contributions may be left in care of the Yorgensen-Meloan-Londeen Funeral Home, 1616 Poyntz Avenue, Manhattan, Kansas 66502.
Phillip M. Parry – Posted 3/21/2017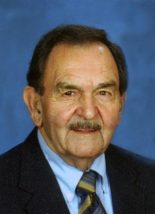 Phillip M. Parry, age 86 of Topeka and formerly of Riley, passed away Saturday, March 18, 2017 at Stormont Vail Healthcare in Topeka.
Phil was born on December 29, 1930 in rural Riley County near Bala, Kansas to Edward Parry and Letha M. Myers. He grew up working on the family farm with his parents and his sister, Bernice (Parry) Leidig. As a child he was surrounded by a tight-knit family of grandparents, uncles, aunts, and cousins. He graduated from Riley Rural High School in 1948, and the following year, his father passed away. On November 25, 1956, he and Myrna M. Dodds were married in the Riley Presbyterian Church. Their son Brad was born in 1957 and their daughter Shawn in 1960. Phil farmed and hauled rock until 1960 when he began working at the Skelly gas station in Riley. Phil and Myrna became the owner-operators of Phil's Skelly in the late 1960s, where he served the community until he retired in 2004. He then drove a van of pre-school students to and from school for the Riley County School District for eight years. Phil lived on the family farm for forty-three years before moving to a new home outside of Riley in 1973, the year after his mother passed away. His beloved mother-in-law, Patty Dodds, subsequently passed away in 1982. He lived in his second home for forty-three years before moving to Topeka in 2016 to be near family.
Phil leaves behind loving family members who lift him up in memory during this time of sadness. He is survived by his wife, Myrna of Topeka; sister, Bernice Leidig of Clay Center; and two children, Brad Parry and wife Susan of Topeka and Shawn Parry-Giles and husband Trevor of Takoma Park, Maryland. Phil has four loving grandchildren, Clare (Parry) Lozano and her husband George, Allison (Parry) Moreno and her husband Gabriel, Sam Parry-Giles, and Eli Parry-Giles and four great grandchildren, Maya Lozano, Brynn Lozano, Sebastian Moreno, and Amelia Moreno, who were treated to candy corn in his pocket with their every visit. Phil served as the moral compass and a source of continued inspiration for his children and grandchildren. He will forever be missed by his family.
Phil also leaves behind a close-knit community of friends and neighbors from his years in the service station, his years as a local historian, and his years as a church leader. Phil's Skelly became a regular hangout for coffee drinkers gathering to tell stories of the past, worry about the weather, and share the local news. Phil also served as a devoted student of local and family history. He helped form and lead the Welsh Heritage Society in Bala, which preserved the history of this Welsh settlement founded in the late nineteenth century. He aided in co-writing and publishing the history of those families who settled Bala and served as the first members of the Bala Presbyterian Church. He was active in the Riley County Historical Society; he was also interviewed by Welsh historians studying the U.S. history of Welsh migration.
Phil is fondly remembered for helping start a weekly "men's coffee group" at the Riley Presbyterian Church. He prepared coffee for this group every Wednesday for decades before moving to Topeka. Phil was devoted to his family, attending many basketball, football, and volleyball games, concerts, plays, and track meets. Besides spending time with his family, he loved to visit with his friends at the gas station and men's coffee. He also served the Riley Presbyterian Church for decades as a session leader, member of pastor nominating committees, and church treasurer.
The family will receive friends from 6 until 8:00 p.m. Wednesday at the Anderes-Pfeifley Funeral Home.  Memorial services will be held at 10:30 a.m. Thursday, March 23, 2017 at the Riley Presbyterian Church with Rev. Erich Schwartz and Pastor Kevin Larson officiating.  A private family inurnment will be in the Bala Cemetery.
In lieu of flowers, a memorial has been established for the Riley Presbyterian Church.  Contributions may be left in care of the Anderes-Pfeifley Funeral Home.