ALL OBITUARIES ARE LISTED ALPHABETICALLY AND WILL REMAIN POSTED FOR SEVEN DAYS.
Wayne Bairow Posted 10/16/14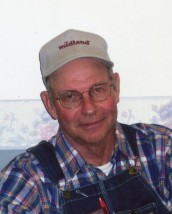 Wayne L. Bairow, 78, of Westmoreland, Kansas, died Wednesday, October 15, 2014, at his home following and extended illness. He was a life-long member of the community.
Wayne was born on August 22, 1936, on the family farm east of Westmoreland, the son of William F. and Viola Repp Bairow. He attended local schools and graduated in 1954 from Westmoreland High School. Wayne served in the Army Reserves.
Wayne was a farmer along with raising cattle. He loved farming and doing the work it required. For many years he also worked as the parts manager for the Ford dealership and then Quality Parts in Wamego. He was a charter member and first president of the Lucky Eleven 4-H Club.
He married Margaret L. Harrison on January 21, 1966, in Westmoreland. She survives at their home.
Wayne is also survived by his daughters, Lori Snapp (Randy) Holt, Missouri and Ginger Eckart (Greg), Wamego; his brother, Marvin Bairow (Mary), Westmoreland; his grandchildren, Greg Snapp, Chad Snapp, Allison Snapp and Tyler Snapp; and sister-in-law, Donna Bairow, Holton. He was preceded in death by his parents and a brother, Galen Bairow.
Graveside funeral services will be held at 10:30 a.m., Saturday, October 18, 2014, at the Westmoreland City Cemetery. Reverend Leslye Haller will be officiating. Mr. Bairow will lie-in-state on Friday, beginning at 2:00 p.m. at Campanella-Evans Mortuary in Wamego, where the family will receive friends from 6:30 p.m. until 8:00 p.m. They suggest memorial contributions to the Westmoreland Fire Department or Grace Hospice, and those may be sent in care of the mortuary. Online condolences may be made at www.campanellafuneral.com.
Delia Marcellus Posted 10/20/14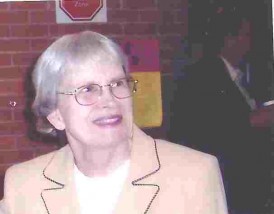 Delia Reed Marcellus, 86, of Manhattan, passed away Friday, October 17th, at Stonybrook Retirement Community.
Dee was born in Lawrence, Kansas on April 6, 1929, to the late Bertha Christie and Addison Reed. She graduated from Lawrence High School and from the University of Kansas with a degree in zoology. On April 29, 1949 she married Larry Marcellus and had three children; daughters Laura Penland and Marie Amthauer, and son DeWayne Marcellus. Larry and Dee traveled extensively, as empty-nesters, going to England and to Europe twice. They also traveled to Australia, Hawaii, Mexico and Nova Scotia.
Dee and Larry purchased several weekly newspapers in northern Riley county and combined them into The Riley Countain. She worked on this paper for many years, writing a weekly column and editing/publishing the paper. Later she worked in Ad sales for the Manhattan Mercury for more than 20 years. She also helped form the Leonardville Hustlers 4-H club. She was an active in a number of clubs around Manhattan, and enjoyed her "giggle bridge" club, doing handwork, and reading.
Delia is survived by a daughter Marie (Verle) Amthauer, of Junction City, Kansas and a son DeWayne Marcellus, of Manhattan and a grandson, Matthew Burgett of Winfield, Kansas. She was preceded in death by her parents, husband and daughter Laura Penland.
Dee donated her body to the K.U. Medical Center for medical research. There will be no memorial services.
In lieu of flowers, the family requests memorial contributions be made to National Parkinson's Foundation Heartland, 8900 State Line Road, #320, Leawood, Ks 66206.
For more information of to send an online condolence of gift, please visit our website at irvinparkview.com
James Miller Posted 10/15/14
James Allen Miller, age 61 of Junction City, Kansas, died Monday, October 13, 2014 at Stormont-Vail
Healthcare in Topeka, Kansas.
He was born on November 30, 1952 in Flagler, Colorado, the son of Robert Maxwell and Betty (Grill)
Miller.
He was married to Carol Miles in 2000 at Goodland, Kansas. She survives of the home.
James worked for McDonald Auto Sales and Salvage in many capacities. He enjoyed reading and was
a helpful person to anyone who asked.
In addition to his wife, he is survived by his father, one son, one daughter, two brothers and one sister.
He was preceded in death by his mother.
Graveside services will be held at 2:00 P.M. Friday, October 17, 2014 at the Grandview – Mill Creek
Cemetery. Respect calls may be made anytime Thursday at the Anderes-Pfeifley Funeral Home.
A memorial has been established for James A. Miller Memorial Fund. Contributions may be left in care
of the Anderes-Pfeifley Funeral in Riley, Kansas.
Condolences may be left for the family at www.pfeifleyfuneralhome.com.
Robert Mills Posted 10/20/14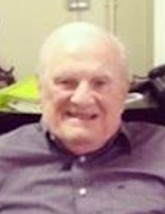 Robert Barney Mills, age 92, of Manhattan, died October 18, 2014, at Meadowlark Hills Retirement Community – Honstead House.
He was born February 10, 1922, in rural Franklin County, Kansas. He attended public schools in Lane, Garnett, and Greeley, Kansas, graduating from Greeley High School in 1939.
He served in the United States Navy from 1942 to 1946, serving as a Naval Aviator in the Pacific in 1945, and was discharged at the rank of Lt. J.G. He had received the Navy Unit Citation, Air Medal and the Distinguished Flying Cross.
Dr. Mills earned his B.S. degree from Kansas State University in 1949, M.S. from the University of Colorado in 1953, and his PhD. from Kansas State University in 1964.
From 1949 to 1961, he was a high school teacher in Lyndon, Coldwater and Topeka, KS. From 1963 until his retirement in 1987, he was on the faculty of the Department of Entomology at Kansas State University.
On October 7, 1945, in Greeley, Kansas, he was married to Mary E. Cowan. Mrs. Mills preceded him in death on March 19, 2001. He was also preceded in death by his one brother and three sisters.
Dr. Mills is survived by his daughter, Julie Mills Proffitt and her husband Darrel of Katy, Texas; three grandchildren: Joseph Mills Proffitt of Oakland, CA, Emily Mills Proffitt Holtzclaw and her husband Timothy John Proffitt Holtzclaw of Lawrence, KS, and John Mills Proffitt of Lawrence, KS; and two great grandchildren: Jude Proffitt Holtzclaw and Scarlett Mills Holtzclaw.
Funeral services will be held at 11:00 AM Wednesday at the First United Methodist Church, 612 Poyntz Avenue, Manhattan, KS, with Reverend Melanie Martin officiating. Graveside services will be held at 3:30 PM Wednesday at the Garnett Cemetery in Garnett, Kansas.
Online condolences may be left for the family through the funeral home website at www.ymlfuneralhome.com.
Memorial contributions may be made to the Mary E. Mills Scholarship Fund through the Manhattan-Ogden Public Schools Foundation. Contributions may be left in care of the Yorgensen-Meloan-Londeen Funeral Home, 1616 Poyntz Avenue, Manhattan, Kansas 66502.
David Parker Posted 10/13/14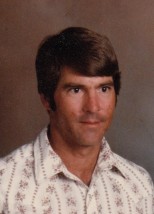 David Allen Parker, age 59, of Washington, Kansas, died October 10, 2014, in a pasture near his home.
He was born August 1, 1955, in Manhattan, Kansas, the son of Kenneth W. and Bernis E. (Graves) Parker. David graduated from Manhattan High School in 1973. He grew up in Ashland bottoms, and lived in Riley, Kansas for 21 years prior to moving to Washington in 2007.
David worked for Westar Energy starting as a meter reader, then as a lineman for 30 years prior to becoming the Electric Distribution Supervisor eight years ago.
He grew up in the Ashland Community Church, and was a member of International Brotherhood of Electrical Workers and the Kaw Valley Muzzle Loaders.
The time that David enjoyed the most was spent with his family. He enjoyed traveling, all animals, playing the strumming stick and harmonica, old time country music, and played in an instrumental group at church while growing up.
On April 19, 1986, at Ashland Community Church, he was married to Tamala "Tammy" Wells. Mrs. Parker survives of the home. Additional survivors include four children: Andrea Bender and her husband Brian of Manhattan, Brian Parker and his fiancé Tia Atchison of Belvue, KS, Calista Ridder and her husband Cody of Wamego, KS, and Catherine Ward of Texas; six grandchildren: Alex, Maverick, Bryan, William, Brianna and Cole, and he was looking forward to the seventh grandchild in February. David is also survived by his mother, Bernis Parker of Manhattan; five siblings: Wayne Parker and his wife Margaret of Westmoreland, KS, Deanna Selby and her husband Kenneth of Manhattan, Carol Mortimer and her husband Robert of Manhattan, his twin Douglas Parker and his wife Ruth of Manhattan, and Daryl Parker and his wife Michelle of Manhattan; and his mother and father in law, Marion and Mildred Wells of Manhattan.
David was preceded in death by his father Kenneth Parker and one nephew Chris Parker.
Funeral services will be held at 10:00 AM Wednesday at the Yorgensen-Meloan-Londeen Funeral Chapel with Pastor Paul Barkey officiating. Interment will follow in the Ashland Cemetery south of Manhattan.
The family will receive friends from 7:00 until 8:30 PM Tuesday at the Yorgensen-Meloan-Londeen Funeral Home.
Online condolences may be left for the family through the funeral home website at www.ymlfuneralhome.com.
Memorial contributions may be made to the David Parker Memorial Fund, to be designated later. Contributions may be left in care of the Yorgensen-Meloan-Londeen Funeral Home, 1616 Poyntz Avenue, Manhattan, KS 66502.
Kathleen K. Sinnett Posted 10/20/14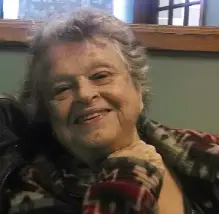 Kathleen K. Sinnett was born to Lucile and Thomas Allin Keen in Memphis, Tennessee on October 7, 1928. On October 14, 2014, she passed away after a long battle with Alzheimer's disease.
She earned her Ph.D. in clinical psychology from Harvard (Radcliffe) in 1957. Notable career highlights include post-doctoral work at Menninger's Institute in Topeka, and subsequent work on staff as a psychologist. In 1962, she moved to Manhattan, Kansas where she taught briefly at Kansas State, and then in 1966 started a successful private practice specializing in child and family psychotherapy that she retired from 38 years later.
She balanced the demands of a successful career in psychotherapy with being a wife and a mother. She and her husband, E. Robert Sinnett, raised two daughters and assisted in the raising of two stepsons. Additionally, she made many contributions to her community as a volunteer consultant. She was instrumental in the early life of the Headstart program in Manhattan, and a consultant on programs for the developmentally disabled at Big Lakes. She was important in shaping the volunteer hospice movement in Manhattan, and taught arts and crafts classes for many years at the Douglas Community Center. After her retirement, she trained as a first responder for the Red Cross to assist with mental health issues caused by disasters.
Kay will be remembered by friends, family, and community members as an energetic, skilled and compassionate psychotherapist, and as a passionate, articulate and outspoken activist for social justice and civil rights. Her memory will live on in the lives she touched with her wit, intelligence, generosity, and kindness.
Kathleen Sinnett was preceded in death by her husband of 55 years, E Robert Sinnett. She is survived by daughters, Lucy Sinnett Schuler and Kate Sinnett; stepsons Brian and Dan Sinnett; son-in-law, Steve Schuler; sister, Lucy Morgan; brother-in-law, Dick Morgan; first cousin, Joy Ross Baggett; grandchildren Frederick and Kathleen Schuler, and Evan Markowski .
Memorial service to be held Sunday, October 26th at the Danforth Chapel on the K-State Campus at 4:00 pm. In lieu of flowers, donations are requested to Alzheimer's Disease Research, www.brightfocus.org/alzheimers/
Penwell-Gabel Southwest Chapel is assisting with arrangements.