Jeanne Mertz – Posted 1/17/2017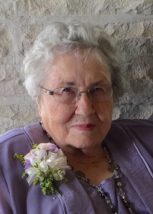 Leola "Jeanne" (Kueny) Mertz was born November 7, 1929, in Kansas City, Kansas, and grew up in the town of Oskaloosa.  She died January 13, 2017, at her farm home east of Manhattan, Kansas.  Jeanne was the daughter of Ted W. and Agnes J. (Pennington) Kueny.
Jeanne and Harold D. Mertz were married June 18, 1950.  Harold, an infant daughter Cynthia, Jeanne's parents, stepfather Harry Bullock, and a stepsister, Betty Bliss, preceded her in death.  Survivors include her children: Joe Mertz (Kim), Tom Mertz (Donna), Bob Mertz (Mary), Jane Garcia (Bob), and Jon Mertz; eleven grandchildren: Brent Mertz, Asher Mertz (Shina), Lincoln Mertz, Malia Palenske (Daniel), Matthew Garcia, Lisa Berding (Greg), David Mertz, Grant Mertz, Abram Mertz (Dani), Adam Mertz, Alec Mertz, and two step-grandchildren, seven great grandchildren, and five step-great grandchildren.  She is also survived by a sister, Agnes O'Neill (Richard), stepbrothers Bob Bullock and Paul Bullock (Marilyn), and many nieces and nephews.
Jeanne was a strong advocate for agriculture serving on various farm industry boards and receiving many honors for her service, including the esteemed Leaven Award from American Agri-Women in 1982. Jeanne and Harold were named Master Farmer/Master Homemaker in 1987 by Kansas State Research and Extension. She was the recipient of the Distinguished Service Citation Award for 1991 from the Kansas State Board of Agriculture. In 2015 she received the Distinguished Service to Agriculture Award from the Kansas State Grange for her initiation of the Kansas Agri-Women Grocery Sack Signs that promote farm commodities and produce along Kansas highways. Jeanne served as President of Kansas Agri-Women and then as President on a national level for the American Agri-Women organization.
The family will receive visitors from 5:30pm to 7:00pm on Friday, January 20, 2017, at the Yorgensen-Meloan-Londeen Funeral Home, 1616 Poyntz Avenue, Manhattan.
Memorial services will be held at 10:30 am, Saturday, January 21, 2017, at the First Presbyterian Church, 801 Leavenworth, Manhattan. Graveside services will be private.
              To leave an on-line condolence for the family, please visit the funeral home website located at www.ymlfuneralhome.com
Memorials may be made in care of the funeral home to Kansas Agri-Women, First Presbyterian Church of Manhattan or to the Meadowlark Parkinson's Program (Manhattan).
James C. Mitchell – Posted 1/19/2017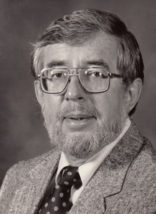 James C. Mitchell, Ph.D., age 81, of Manhattan, died December 24, 2016, at the Via Christi Hospital in Manhat
tan.
He was born July 30, 1935, in Youngstown, Ohio. Dr. Mitchell earned his B.S. in 1957, M.A.in 1959, and his Ph.D. in 1962 all from Ohio State University.
Dr. Mitchell served as Research Associate in Neurosurgery at the University of Mississippi Medical Center and as Assistant Professor of Psychology at Southern Illinois University prior to joining the faculty at Kansas State University in 1966.
Dr. Mitchell taught undergraduate courses in introductory, general experimental, history of psychology, learning, and physiological psychology. His research had been concerned with central nervous system function and behavior with particular emphasis on the limbic system and frontal cortex.
Dr. Mitchell was a member of several honorary and professional societies and had numerous published publications.
Cremation is planned with private inurnment in the Carnahan Creek Cemetery north of Manhattan.
Memorial services will be held at 2:00 P.M. Saturday, January 28 th , at the Unitarian Universalist Fellowship of Manhattan, 481 Zeandale Road, Manhattan. Memorial contributions may be made to the Unitarian Universalist Fellowship of Manhattan or the Southern Poverty Law Center. Contributions may be left in care of the Yorgensen-Meloan-Londeen Funeral Home, 1616 Poyntz Avenue, Manhattan, KS 66502.