Agnes "Aggie" May Doughty-Posted 8/16/2017
Agnes "Aggie" May Doughty, 84, formerly of Olsburg, at about 12:30 a.m. Tuesday, August 15, 2017, went to meet the Lord and get Roy out of the coffee shop.
She was born on April 7, 1933 in Newton, the daughter of Henry A. Sr. and Dorothy (Eberhard) Gronau. The eldest of three children. She grew up helping on the family farm where she loved to ride horses. After attending Mt. Carmel in Wichita, she had a job as a checker for Dillon's, where she met Roy Lee Doughty. They were married on July 24, 1954 and had four sons, Mark, Paul, Steve and Bill.
Aggie followed Roy during his 20 year career in the Navy. She had a list of 18 addresses they held. The ended up in their dream home on Blue Mesa Road. Aggie loved her horses and dogs, especially her Boston Terriers, the last one named Rudy. She fed the deer and birds around the house.
She worked for Dillon's for over 25 years and Roy hated to go shopping with her because she always running into customers and talking.
She is survived by three sons, Paul Doughty of Manhattan, Steve Doughty and wife Susan of Manhattan and Bill Doughty of Oskaloosa; a daughter in law, Kay Doughty of Leavenworth; one sister, Lois Ann "Sanny" Fietz and her husband Charlie; four grandchildren, three great grandchildren, one great great grandchild and countless nephews and nieces.
Aggie was preceded in death by her husband Roy in 2008; her son Mark in 1998 and her brother Henry Gronau, Jr.
She will be laid to rest next to Roy at 1:00 p.m. Saturday, August 19, 2017 at the Carnahan Creek Cemetery with Rev. Helen Hutchins officiating. The family will receive friends from 6 until 8:00 p.m. Friday at the Anderes-Pfeifley Funeral Home in Riley.
In lieu of flowers, a memorial has been established for the Olsburg City Pool. Contributions may be left in care of the Anderes-Pfeifley Funeral Home.
Condolences may be left for the family at www.apfunerals.com.
Sam Wilson-Posted 8/9/2017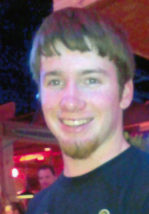 Samuel Robert "Sam" Wilson, age 23, of Milwaukee, Wisconsin, died August 5, 2017.
He was born September 28, 1993, in Manhattan, Kansas, the son of Joseph M. "Joe" and Ellen S. (Dziedzic) Wilson.
Sam grew up in the St. George Community and graduated from Rock Creek High School in 2012 attended college at Kansas State University. Sam was active in athletics. He lettered in football, wrestling and track at Rock Creek. Sam was a diehard K-State fan. He began working as a cable puller for the cameras at K-State football games as a sophomore in high school. While in college he advanced to running a camera and performing other duties with K-State HDTV. He decided that he would pursue a career in the sports video field. This led him to Milwaukee where he worked for the Milwaukee Brewers doing a similar job with the video department. His goal was to eventually become a camera man for his favorite NFL team the Green Bay Packers.
Sam enjoyed sarcastic humor, and making people laugh with things he would do and say.
Survivors include his parents of the home; two brothers: Casey Koberstein and his wife Tiara of Milwaukee, WI, and Joseph Michael Wilson of St. George; grandparents: Walter Dziedzic and Suzanne Taylor; aunts and uncles: Lisa Dziedzic, Becky Johnson (Neil), Linda Byers Dziedzic, Christine Ramskugler (Randy), Roberta Kind, Peggy Crubel (John), Maribeth Chrest, Melissa Cragg, William Wilson, Richard Wilson (Myrna) and Barbara Tebbutt (Lee); and numerous cousins.
Sam was preceded in death by his grandparents Robert and Muriel Wilson and his uncle David Dziedzic.
Cremation is planned with a Mass of Christian Burial to be held at 10:30 A.M. Friday, August 11th at the St. Joseph's Catholic Church at Flush with Father Mike Peterson as celebrant. Inurnment will be in the St. George Cemetery at St. George, KS.
The family will receive friends from 5:30 to 7:00 P.M. Thursday, August 10th, at the Yorgensen-Meloan-Londeen Funeral Home. Family and friends are invited to pray the Rosary at 7:00 P.M. Thursday in the Yorgensen-Meloan-Londeen Funeral Chapel.
Online condolences may be left for the family through the funeral home website at www.ymlfuneralhome.com.
Memorial contributions may be made to the Rock Creek Quarterback Club. Contributions may be left in care of the Yorgensen-Meloan-Londeen Funeral Home, 1616 Poyntz Avenue, Manhattan, KS 66502.