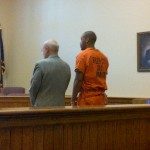 A plea agreement was entered Wednesday morning involving a first degree murder case.
Riley County District Court Judge, Meryl Wilson heard the plea agreement for James McKenith (33), who was arrested and charged with first degree murder three days after John Burroughs (68) was found dead in his residence in September of last year.
Prosecuting State Attorney, Barry Wilkerson shared the terms of the agreement, that he and Defense Attorney, J. Richard Lake agreed on.  The no contest plea would involve a life sentence for McKenith, with possible parole after 20 years.
Wilkerson provided a brief background of the case, as other judges have handled previous court appearances for McKenith.
Judge Wilson accepted the plea agreement, and set sentencing for May 5th at 3:30 p.m.