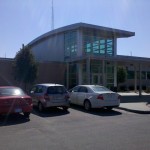 An unusual search occurred early Friday morning.
Details are still a little scarce at this point, but the Riley County Police Department stated that at about 5:44 Friday morning they received a call reporting that two Fort Riley soldiers who were supposed to be on base never arrived.
Police began looking for the individuals and located their vehicle in a ditch along Deep Creek Road.
Continuing their search for the individuals, police checked with local hospitals and were unable to locate them.
A report came that the two individuals somehow made their way back to Manhattan; both badly injured.
KMAN will bring you more details as they become available.
—-
Over a two month span, a number of items have been stolen for a Manhattan woman.
Julie Walter, 56, reported that between August 1 and October 15, $1,300 worth of antique jewelry along with other items have been taken from her residence.
Walter's suspects a recent guest.
Police are following leads as the investigation continues.