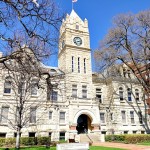 17 people were orriginally arrested in the series of 13 illegal narcotics search warrants back in July.  The man with the highest bond, out of the 17 people, was set to appear in court Tuesday afternoon.
After switching courtrooms, due to air conditioning problems, and calling the Riley County Information Technology Department in an attempt to get the web camera up and running-Judge William Malcolm asked to go on with the case.  47 year old Marvin Berroth was supposed to appear via web cam, but Malcolm asked that he be excused from appearing-due to technical problems.
Berroth is currently being held in Riley County Jail for several drug charges, with a bond of $25,000.
Berroth's attorney, Britain Stites appeared in front of Judge Malcolm in person, and asked the case be set for preliminary hearing as soon as possible.
The preliminary hearing was set for September 19th at 10 a.m.