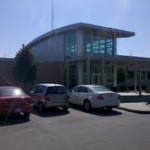 The Riley County Police Department received a special award during an international convention for law enforcement hosted by the International Association of Chiefs of Police (IACP).
The conference, held from October 19th to the 23rd, was located in Philadelphia and had attendance from around the globe. This conference offered workshops, class sessions, panels and other learning opportunities for the department's representatives.
Prior to the conference The Riley County Police Department submitted research for the department's "Initiative: Laser Point" to the Judging Panel of the Research Advisory Committee (RAC) for the international group.
This year, RCPD was informed it would be receiving the 2013 IACP/Sprint Excellence in Law Enforcement Research Award: Bronze from the RAC with the IACP.
Riley County Police and Public Information Officer,  (#TwitterCop) Matthew Droge, took top honors after scoring higher than all other competitors in a law enforcement skills and knowledge competition.
This competition hosted by various police equipment companies like Taser and Evidence.com tested participants in several areas to include taser accuracy and speed, knowledge of pursuits, officer safety and Miranda, as well as being able to identify and answer questions about a suspect after being flashed a photograph for only a few seconds. This competition also included a virtual shooting range to test speed with a service weapon.
RCPD was recognized at the awards dinner along with Kent Police of The United Kingdom and Daytona Beach Florida Police.