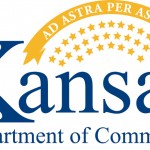 Looking to learn more about the latest developments in the renewable energy industry?
Look no further than the 2013 Kansas Energy Conference. Registration is now open for the day-and-a-half conference, which will feature three general sessions and several breakout sessions. The breakout sessions will focus on the renewable energy sector, wind energy, and agriculture, just to name a few.
The conference will be held on October 1-2 at the Manhattan Conference Center – 410 S. Third St., Manhattan, Kan. 66502. A complete itenerary and online registration is available through the Kansas Energy Conference website at KansasCommerce.com/EnergyConference. Register now through August 31 to receive early bird pricing of $75.00. Regular registration is $100.00 and registration will close on September 25.