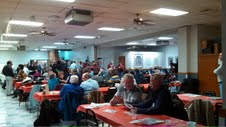 Stories were told at the American Legion Saturday afternoon.
These stories weren't that of fairy tales.  These were the stories and memories of the veterans who served in the Battle of the Bulge, the largest land battle of World War II.
 "The battle of the bulge was fought in the Ardennes Forest," said Jim Sharp, Veteran of the battle.  "It started when the Germans surprise attacked us in the Ardennes and they overwhelmed us early on in the battle, penetrated our line about 25 miles deep and that's why it's called the Battle of the Bulge."
 About 15 veterans were in attendance at the 69th anniversary celebration of the battle.
 Beginning with a meet and greet with artifacts for people to look at, then a lunch, followed by some presentations and a panel discussion.
 Among those who spoke, David Barber, the Honorary Consul of Belgium, brought the appreciation of a country with him.
 Barber also talked about the history of World War II and the importance of the Battle of the Bulge.
 During the panel discussion, four veterans, Sharp, Walley Jeffrey, Carl Shell, and Julian Siebert, spoke of their individual experiences with the war, their first impressions, the living conditions, and they concluded about how they felt when the war ended.
 "The most beautiful thing in the world we saw was the American flag," Siebert said.
 This event is an annual celebration put on by the local chapter of the Battle of the Bulge along with help from the American Legion Riders.