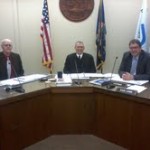 Mill Levy Increase
Budget requests were made by department heads and other entities the past few months, budget work sessions were held, and finally the 2014 Riley County budget was approved during Monday's commission meeting.
Commissioner, Robert Boyd asked the commission consider possibly eliminating or reducing two line items in the emergency management fund.  Commission Chair, Dave Lewis and Commissioner, Ron Wells did not feel comfortable doing this, as Emergency Management Director, Pat Collins was not present.  Boyd stated, "you are rewarding non-participation", as the department heads were all asked to be present.
The mill levy was set at 37.345, which is a 1.949 increase from the 2013 budget mill-34.783. Budget and Finance Officer, Johnette Shepek commented, "I don't think you're going to find more significant cuts to impact the mill levy."
County Clerk, Rich Vargo added, "the biggest change is the $50,000, plus benefits, job that was added to the IT/GIS department".
The commission unanimously approved the budget, and it will now be moved forward for finalization.
Shepek commented that all of the deadlines should be met now that the budget is approved.
—————-
People Angry Over Public Building Commission Topic 
Members of the public attended the county public building commission discussion, many of which were not in favor of the idea.
One individual claimed the 19th amendment gave her the right to vote, and this commission would take away that right.
Another individual told the commission, "I trust the wisdom of the community over you three".  He also asked for more time to decide on the building commission, so the members of the public can be more informed of the idea.
Other members of the public also stated there was not enough notice about this building commission topic, and the only way they found out was through media sources.
Commissioner, Robert Boyd said the commission encourages public participation during every one of there meetings, but very seldom do individuals show up.  "We aren't trying to do things sneaky, everything is open for the public to witness and provide input on", said Boyd.
The commission chose to table the decision, as they wish to gain more input.