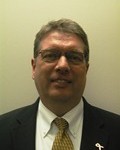 We'd recently heard about the closing of the Saline County Juvenile Detention Facility, and that will have a positive impact on Riley County in terms of expenses for the North Central Kansas Regional Juvenile Detention Center, located in Junction City. That's according to Riley County Commission Chair Dave Lewis, who also serves as the Vice-Chair of the detention facility board. Saline County this week asked to become a member of the North Central Kanas group.
Lewis tells KMAN the subject was examined in detail at the board's Wednesday meeting. Lewis adds for Riley County the cost to participate will decrease in the neighborhood of $2,500 to $3,000 a month, which he describes as a substantial savings.
However Lewis admits there are some long term concerns about adequate bed space, with this doubling on average the numbers of beds filled at the North Central Kansas Regional Juvenile Detention Facility. Lewis notes Saline county tends to have more inmates on average than any other member counties.
Saline County would be the 15th county in the North Central group.