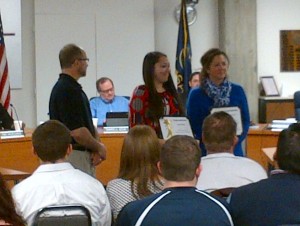 Last month, USD 383 submitted it's Kingdergarten Preschool Program continuation funding applications for the 2014-2015 to the Kansas Department of Education.
Executive Director of Special Education/Special Services, Debora Howser presented the item, which proposed the creation of a Director of Early Education Programs position.
The board approved the addition of the position 6-0.  According to the agenda background, once the position is filled, the new director and district administration will work to define the need and nature of site-specific leadership at College Hill Preschool.
———–
Problems continue to take place with the state assessments, and Executive Director of Teaching and Learning, Carol Adams recommended that they stop testing until the end of the week, and pick select schools to test the system on Monday.
Adams mentioned the recent news that unknown people launched cyber attacks against the tests last week.  The attackers reportedly slowed down or disabled networks used to administer the tests by overwhelming them with traffic, rather than hacking into them.
This issue, combined with the original technology problems that have not yet been fixed, Adams said it is becoming increasingly frustrating.
———–
Two USD 383 teachers were named "Teachers of the Year" for the 2013-2014 school year.  Both Northview Elementary teacher, Ashley Messick, and Anthony Middle School teacher, Casey Ewy, were recognized during the board meeting.
Superintendent, Bob Shannon congratulated both teachers, and thanked them for their hard work.
———–
A moment of silence was observed for Naomi McClendon (18), who used to attend Manhattan High, died after falling out of the 10th floor of a residential building in Tempe, Arizona.
Board President, Curt Herman shared some kind works about McClendon, and mentioned she was an "over achiever" in high school, as she was very involved in different activities.