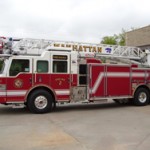 An apartment complex fire KMAN news first told you about early Monday morning caused an estimated $15,000 in damage. The Manhattan Fire Department responded to the blaze at  1210 Vattier Street at about 9:40 Sunday night.
Upon arrival, crews found a three story apartment complex with arcing electrical meters.  Crews stood by until the electrical meters were de-energized by Westar and then extinguished the fire, confining it to the immediate area.  Six fire apparatus and sixteen firefighters responded with the last units clearing at around 1am.  Eight occupants were displaced from the residence. The American Red Cross and Kansas State University Student Life assisted in finding shelter for the residents.
 The apartment complex had eight residents home at the time of the fire and upon arrival fire personnel assisted them in evacuating without any injuries.  Loss is estimated at $5,000 to contents and $10,000 to the structure.  The owner is listed as Robert Huber of Manhattan, Ks.  The fire cause was determined to be electrical.