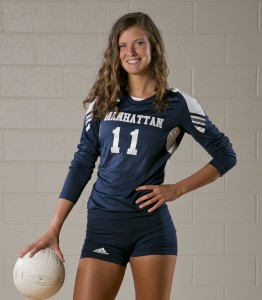 It was a very successful fall sports season for Manhattan high school. Football saw post season action as did the volleyball team. Don't forget the boys cross country team representing the Indians well bringing home a 6A state championship. There have been fine athletes to come out of MHS and play their respective sports at the collegiate level. The Indians are about to add a few more to that list.
In volleyball, Jessie Kujuwa has been a key asset to the Tribe's volleyball success over the last four years. Jessie was a four year letter winner during her stretch for the Tribe volleyball team. She was first team All-Centennial league her junior and senior seasons. In her senior season, she posted 265 kills, 141 digs, 54 blocks and served at a 98% clip. In her career, Jessie posted 156 blocks, 416 kills and 196 digs. Jessie has verbally committed to continue her volleyball career at Fort Hays State University.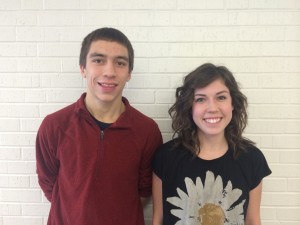 The Manhattan high school cross country team saw loads of success this season including a state championship on the boys side. Two runners stood out above the rest and will now set their sites on running in the Big 12. Chris Melgares and Alaina Schroeder have verbally committed to run at the University of Kansas next year. Chris was the runner up this year at the state cross country meet.  He won back to back centennial league championships and was the regional champ his senior season. He has had success running track as well finishing fifth place his senior year in the 1600 meter run and the 3200 meter run.
Alaina Schroeder has been a key contributor to the girls cross country team. She has been named to the cross country all centennial league, all region and all state teams every year since 2011. She is the three time defending centennial league champion. She placed second, third and third respectively in the last three state meets. During her time running for the cross country team, she helped lead the girls teams to a top ten finish at the class 6A meet every year. She has also won six individual league titles in track and field. She was voted by her teammates as the "most outstanding athlete" on the MHS cross country team for the 2011, 2012 and 2013 seasons.