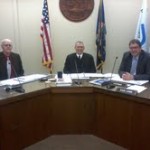 A cash management discussion quickly took a different turn during Thursday's Riley County Commission meeting.
Commissioners had previously requested that County Treasurer, Eileen King provide them with an education about cash management.
King shared details about balances, long term investments, deposits, electronic fund transfers, outstanding checks and ACH deposits.
After King has finished her presentation, she asked commissioners if this is what they were wanting to hear about.  Commission Chair, Robert Boyd answered with, "you kind of missed the mark.  This wasn't exactly what I was looking for".  Boyd requested additional statistics, mainly comparing numbers throughout the years on some sort of flow chart.
Boyd made additional comments regarding the last portion of King's presentation.  "What you've done is added a tax, a mill or so, to the citizens of Riley County and didn't define it", Boyd said.
King quickly answered his comment by saying, "I'm sorry, I do not agree with that Bob (Robert).  You asked me to come in and give you a briefing, and that's what I'm doing. If you have comments about how I should do things differently or suggestions, you know where my office is, thank you."  With that statement, King left the commission room.
After she had left, Boyd mentioned he was just curious about a few things and was searching for some answers.
———————–
Two bid openings were held during the meeting, the first of which was for a 12 year tandem axle dump truck.
Seven bids were submitted:
Kansas Truck Center of Salina                                                  $159,581
MHC Kenworth of Salina                                                             $159,400
Kansas City Peterbilt of Kansas City,KS                                $189,329
Kenworth of Omaha                                                                       $172,798
KCR International DBA Diamond of Kansas City, MO     $157,165          Bid 2-$157,644
Foley Equipment of Manhatan                                                  no bid
Westfall O'Dell Truck Sales of Kansas City, MO                  $159,405          Bid 2-$155,360    Bid 3-$159,280     Bid 4-$155,645
All of these bids were approved for staff evaluation and recommendation.
The second bid opening was for 911 radio infrastructure.  Only one bid was submitted, from a company out of Kansas City, MO.  The bid was $24,000 even, and the commission approved it to move forward for staff evaluation and recommendation.